Nestled within the 6th arrondissement of Paris, Saint Germain des Prés has become quite the popular neighborhood. It's considerably distant from the famous tourist spots in the French capital, making it a peaceful place to retreat to after a busy day at work. But don't think that just because this part of the city is relatively quiet that there's no excitement here. In fact, more than just exciting things to do nearby, it also has its fair share of luxury. The place has a whole collection of Parisian luxury long term residences you'd do well to choose from if you're moving here.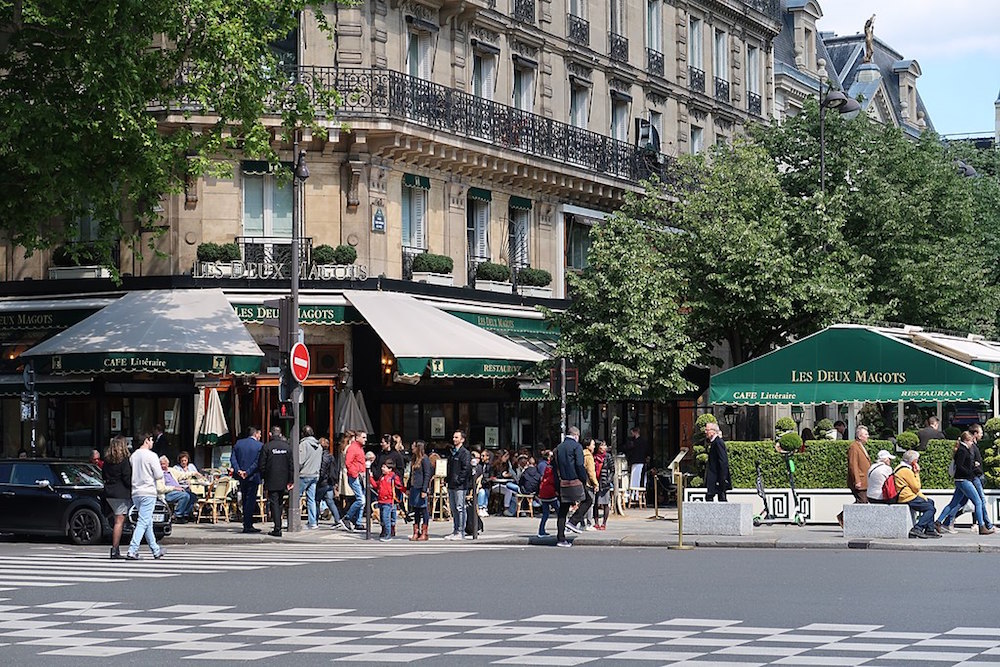 Let's start with this beautiful one-bedroom apartment in Grand Augustins. A cozy little nest amidst a bustling metropolis, this Paris long-term rental is one where a no-fuss kind of resident would love to call home. Surprisingly spacious despite only having one bedroom, it also fits newlyweds who are just starting their married life in what is perhaps the most romantic city in the world. Who wouldn't want to cozy up with his/her new wife/husband here? Especially in that long and lusciously soft sofa in the living room!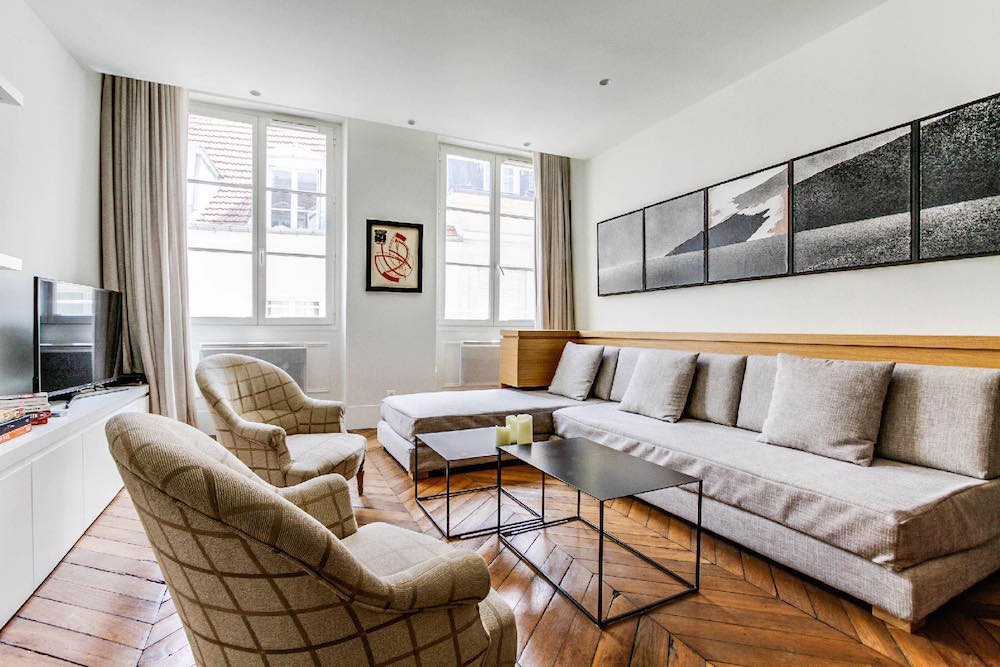 Another one-bedroom here in Saint Germain des Prés is this sleek and modern apartment in Prince. Looking straight out of an interior design magazine, it's a stylish Paris long-term rental that looks quintessentially Parisian. The largely light neutral palette is offset so fashionably by the black leather sofa, decor, and more. And substantially spacious, you can still host a small gathering here, be it for some late-night wine sessions or a fun game night with close friends.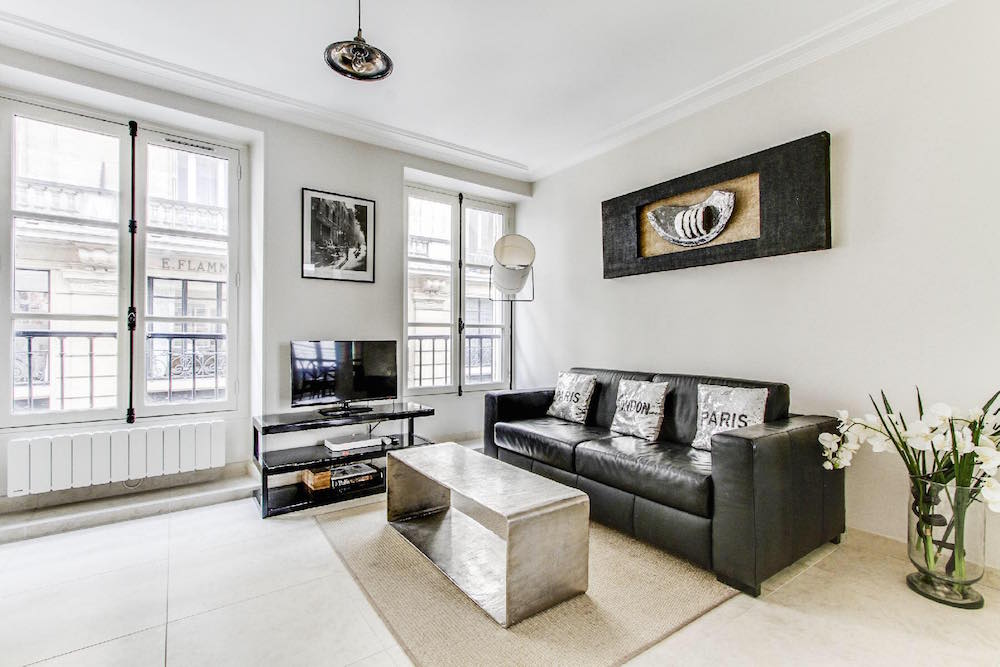 In a busy and bustling city like Paris, space is practically a luxury. So there's no denying that this two-bedroom place in Bonaparte II is luxurious! It's the type of Paris long-term rental that those who don't have a strict budget should choose to settle in. With a living room that can almost double as a mini-ballroom, you can put in as much stuff as you want here. Though you really shouldn't mess up the slightly sexy decor of the apartment as well.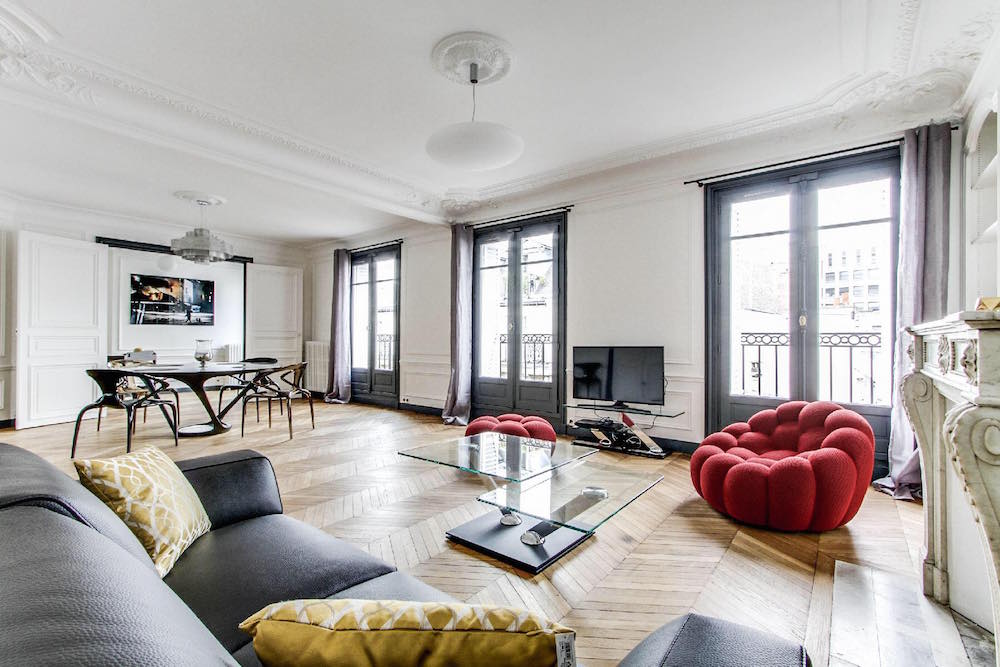 Someone has to say it: this two-bedroom Luxembourg suite needs to be immortalized in an interior design magazine if it hasn't yet already. With its white walls and pinewood floors contrasting the bursts of red and brown by way of furniture, it's such a feast for the eyes. But even beyond that, this Paris long-term rental in Saint Germain des Prés is also surrounded by many cozy cafes that can keep you warm all autumn and winter as well.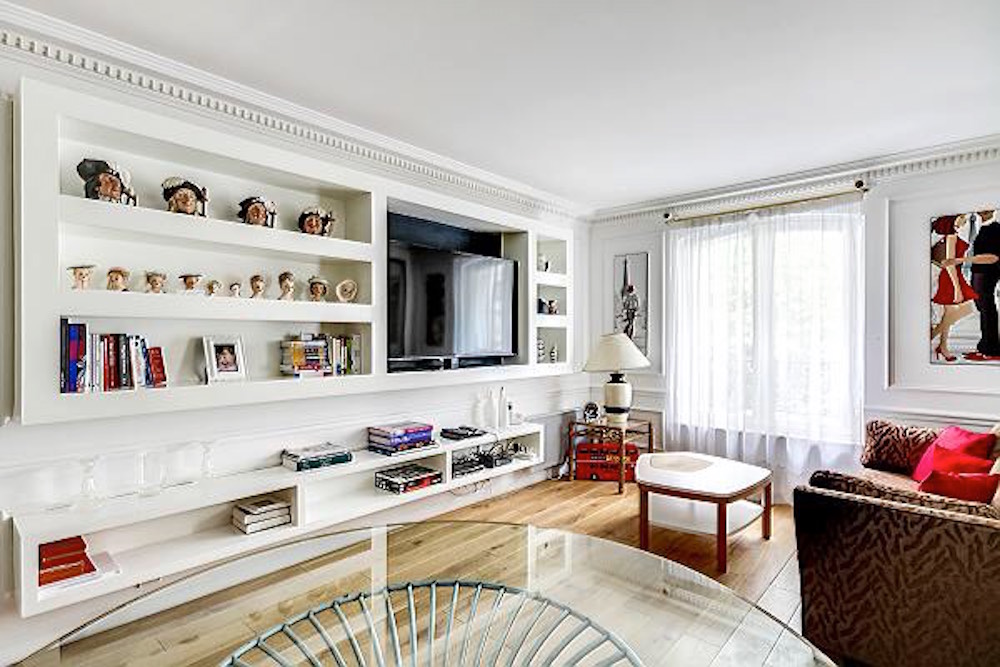 A Parisian Penthouse? Yes, please! If that's not the height of luxury, then what is? But the fact that it's a penthouse isn't the only reason why you should go for this Paris long-term rental. It also gives you a stunning view of Paris, one that you might not see anywhere else here in Saint Germain des Prés. You can enjoy it while you drink coffee on the terrace—an undeniably Parisian way to start the morning and soak in the city's beauty.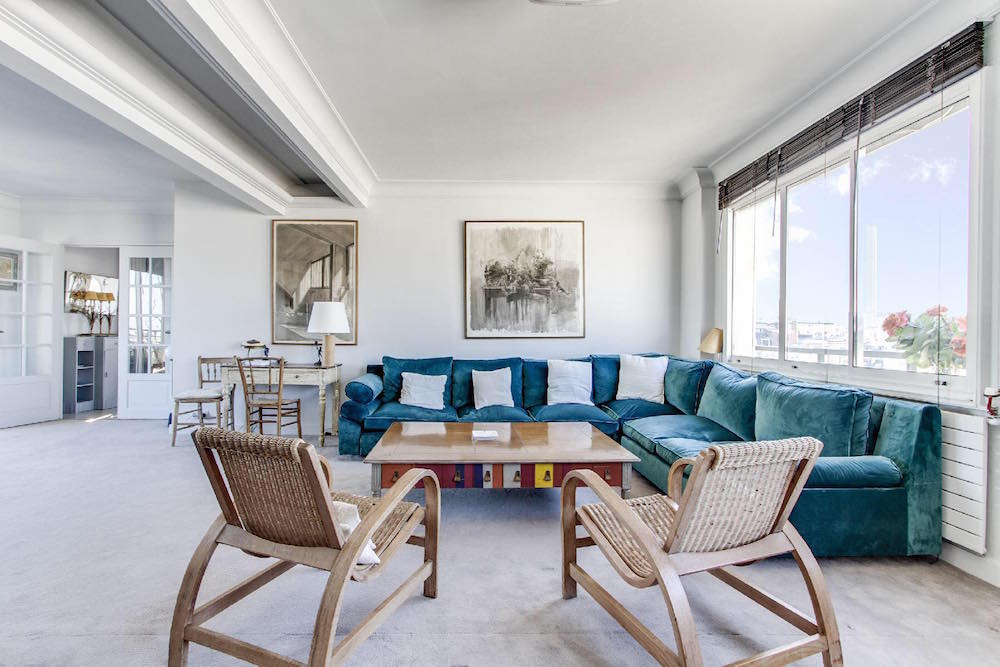 This beautiful three-bedroom Paris long-term rental in Luxembourg Guynemer is quite a home of opposites, which makes it even more fascinating. The living room, with the ostentatious craftsmanship on the ceiling and a grand fireplace in the middle, is as classic as a home can be. And yet the kitchen is sleek and modern as well as equipped with the state-of-the-art appliances. You can basically make all sorts of French treats with the latest cooking equipment in the kitchen and enjoy them feeling like a historic nobleman in the living room. Very contrasting experiences indeed.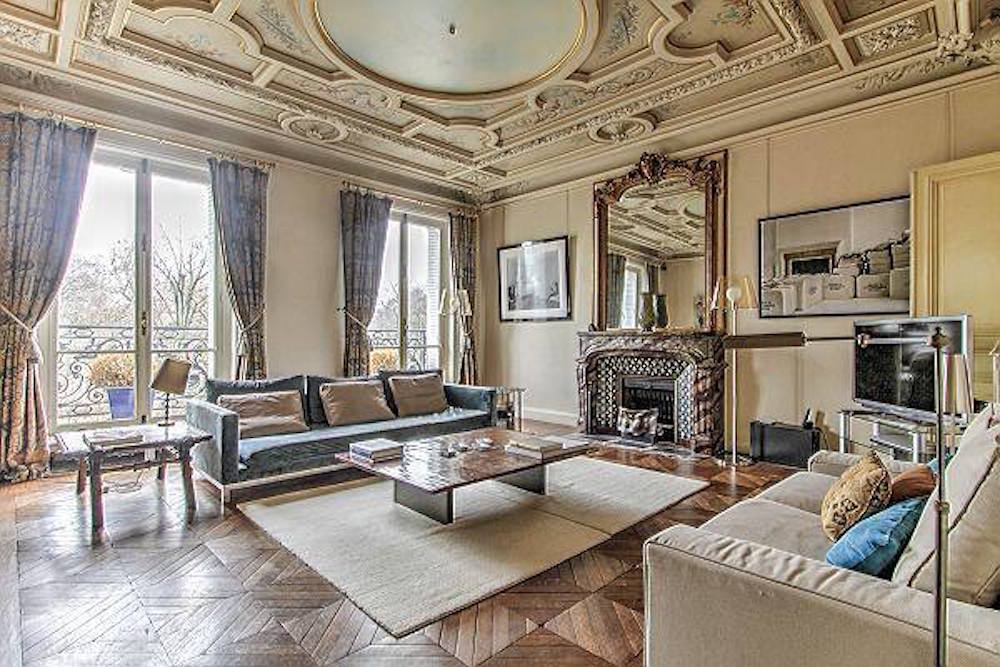 Now, if you want glamour, look no further than this three-bedroom Paris long-term rental in Rennes II. An ornate chandelier lights up the fabulous living room that has a baroque black-and-white carpet, a sleek glass coffee table, and a black crocodile-skin sofa. Extremely fashionable, you and your French designer wardrobe would look perfectly at home here. Not to mention it will impress just about anyone you'd invite back for a chic dinner party as well.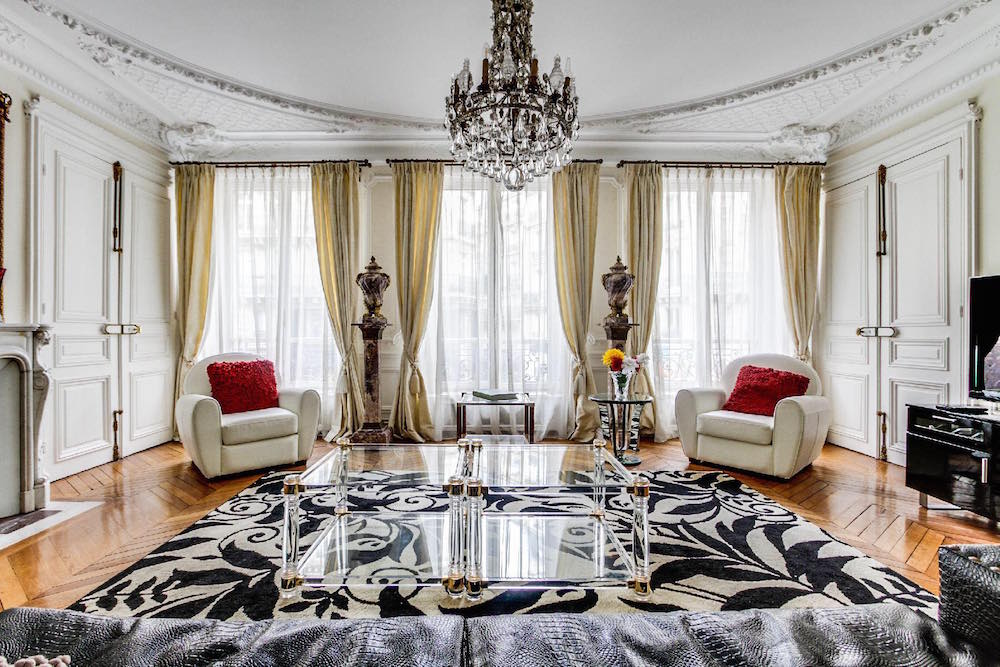 Stereotypically, Paris has gotten a lot of flack for only providing old-school or vintage-style homes. It seems most of the residences in this city look like they were first built in the 1800s and beyond. But this wonderfully contemporary yet still traditionally elegant three-bedroom Paris long-term rental in Rue Sainte-Beuve is the perfect antidote. Yes, some parts still look like it's been around for decades, but for the most part, many of its facilities, especially its sleek glass-paneled kitchen and dining room area, looks undeniably 21st-century!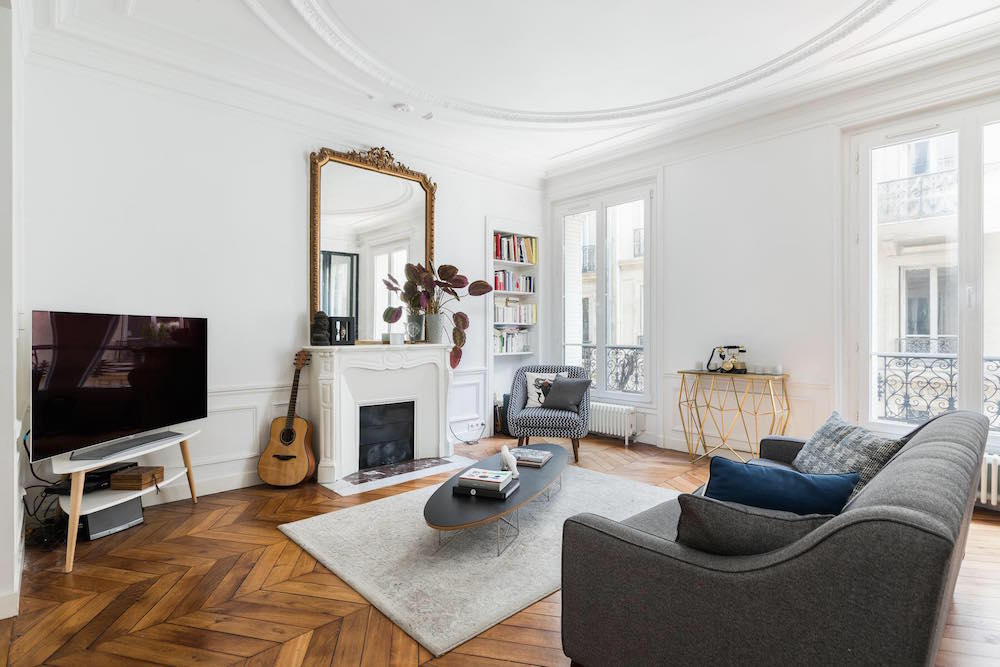 Classic elegance will always reign supreme here in Paris. And this extremely pretty four-bedroom apartment in Odeon stands proof of that. With a deliciously creamy neutral color scheme mixed in with some pale shades of pink, the unapologetically feminine vibe this Paris long-term rental exudes will tug at the heartstrings of any woman (and some men!) looking to live in the French capital. With a fireplace in each bedroom, it will also make for a cozy and toasty home to withstand even the harshest Parisian winter as well.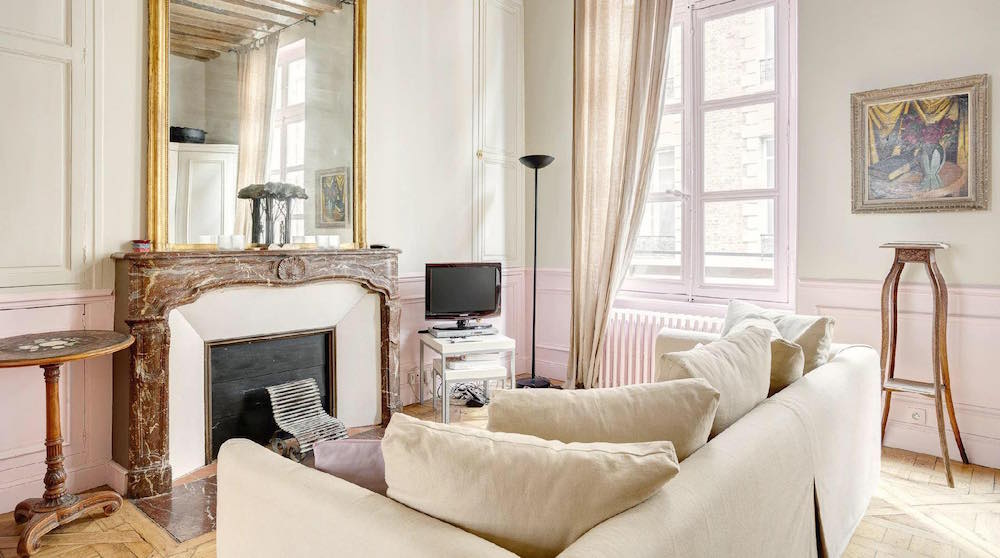 With a neighborhood as peaceful as Saint Germain des Prés, of course, there'd be a townhouse on this list! And this beautiful five-bedroom Paris long-term rental is just what you'd expect in such a place. Exhibiting a rustic elegance that's not that common in the French capital, you can just feel that whoever decorated or first owned this place has a lot of character. It definitely shows in the different parts of the home as well, what with the burnt orange-schemed dining area yet the kitchen's pastel pink palette is completely different as well.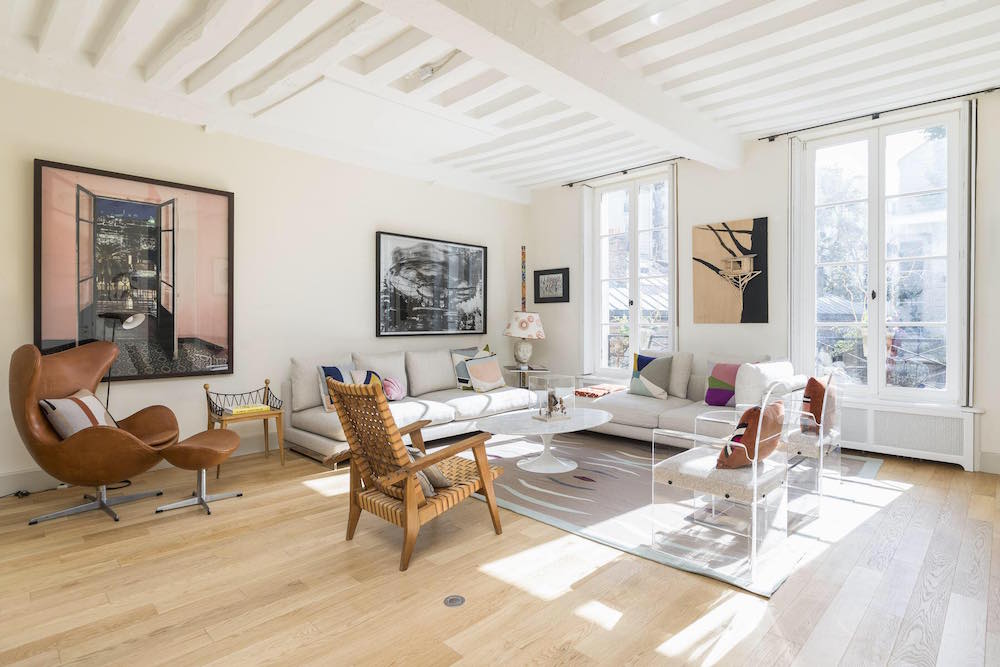 To be perfectly honest, it's easy to find a suitable home in Paris' Saint Germain des Prés. Not only are the rentals here beautiful and homely, but they exude as much luxury as one could find in the French capital.