Amsterdam is a shopaholic's paradise with so many amazing stores and boutiques for you to get some retail therapy. From chic Dutch designers and luxury outlets to cheese shops and department stores, there is something for every budget. Whether you want small independent shops with a home-grown feel or an international luxury brand with branches in every major city, you'll find it in Amsterdam. Our favourite thing about shopping in Amsterdam is it's compact size. You won't need travel for miles, so you'll have more time for shopping. Credit cards at the ready… here are all the best shops in Amsterdam.
This beautifully curated boutique on Haarlemmerdijk is in one of the best shopping areas in Amsterdam, just west of Centraal Station. The store sells all sorts of beautiful knick knacks and clothes, all with a distinctive, minimal aesthetic. The store owners work together with small labels and independent designers to bring a diverse collection of jewelry, ceramics, magazines, textiles and more to the city. Expertly edited, to feature products that form an intention, this is a must-visit in Amsterdam.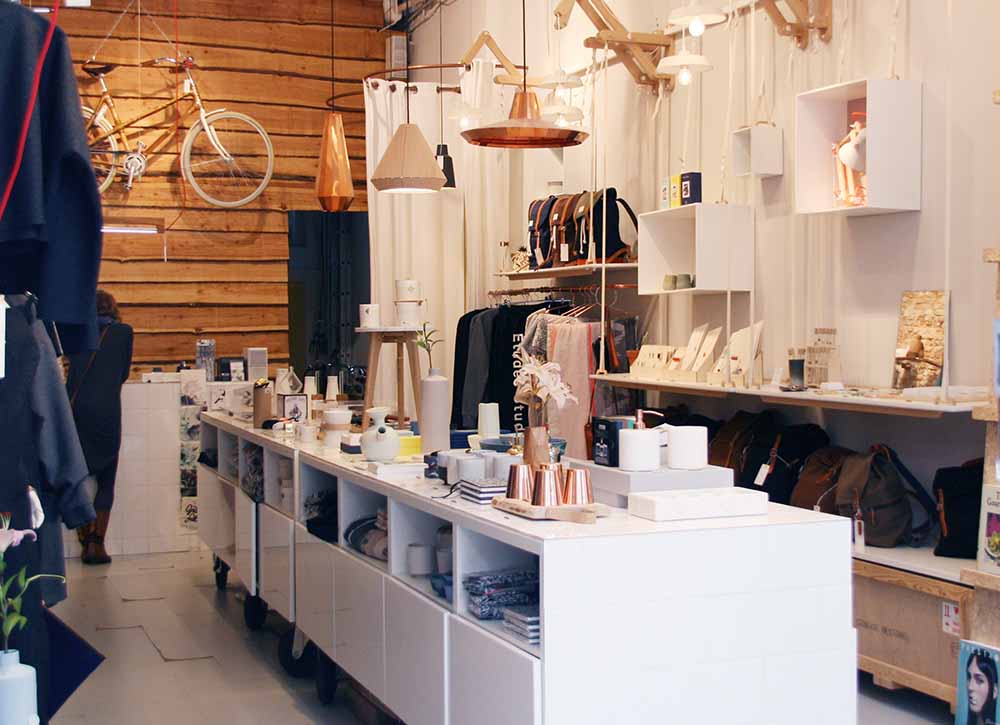 Source: Nansypop
At the end of Haarlemmerdijk is Haarlemmerplein, a small square that's home to Tally Ho. This boutique is a good place to look for unique designs as well as more well-known independent brands. They sell a range of vegan leather accessories as well as lots of European brands. They also carry an edit of watches, jewellery and sunglasses which make the perfect souvenir from a weekend in Amsterdam. Opposite Tally Ho is Gezongdigd which is one of the best coffee shops in Amsterdam so the perfect place for a break after an afternoon shopping.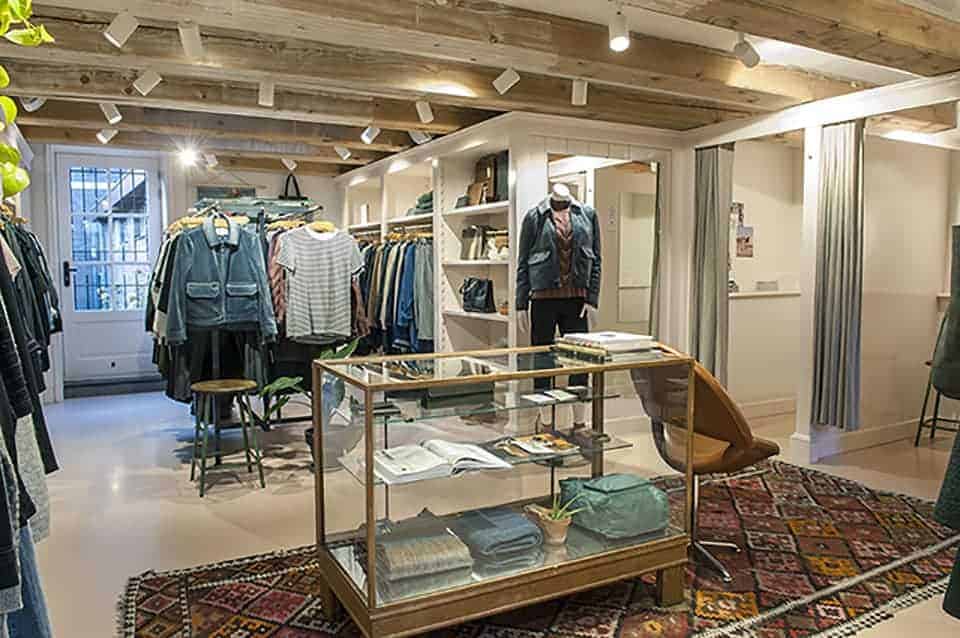 Source: Hello Amsterdam
Amsterdam's most famous department store looms over Dam Square and is a must-visit for shopaholics. De Bijenkorf has been dressing the city's most stylish residents since 1870 and is now owned by Selfridges in London, so you can expect a suitably cool and luxurious edit of brands and products. From luxury designers to perfume and handbags to luggage, there is nothing you won't find in De Bijenkorf. Head to the fifth floor for the homeware department to buy a slice of Dutch design. De Bijenkorf is open later than other shops in Amsterdam, so you can shop here until 9pm Monday - Saturday.
Source: I Amsterdam
Hema is a bit of a local institution so no visit to Amsterdam would be complete without venturing to one of their stores. The multi-purpose shops sell everything from food and drink to clothes and stationary. There is really nothing that Hema doesn't sell. And the best bit? The prices are unbelievably reasonable. Some of the homeware looks as if it costs 10 times the price and their make up range belies the tiny price tags. We're obsessed with the bits and bobs they sell near the till. Who knew you needed a unicorn-shaped jug? Hema knew.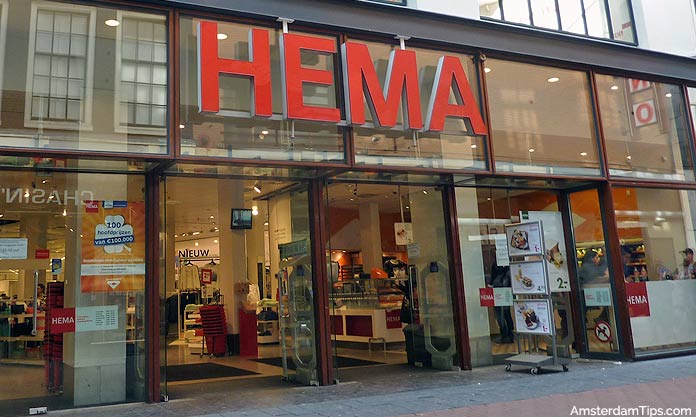 Source: Amsterdam Tips
Bookworms rejoice! The American Book Centre at the top of Spui is truly a book-lovers paradise. The English language book store is a treasure trove of titles from independent publishers as well as all the big blockbuster authors. The travel section is particularly impressive with a huge selection of books about Amsterdam. The spiral staircase is backed by row upon row of books, so you could spend hours in here browsing. The American Book Centre is right in the heart of the city which is one of the best areas to stay in Amsterdam so you won't ever be far away from it.
Source: Dutch Wannabe
Anyone who doesn't need to wear glasses will wish they did when they go into an Ace & Tate store. This glasses boutique has 4 shops in the city, each one seemingly more stylish than the last. Pretty much all their glasses cost €98 with lenses and their sunglasses are €129 with a prescription lens and €98 without. Cheap right? But the stylish glasses definitely don't look cheap. They have a huge range styles and colours so you're guaranteed to find some frames that suit your face shape. They fit the lenses in store so once you've picked your style, they can be ready in less than a day. Definitely a contender for the coolest glasses shop in the world.
Source: Frameweb
Hutspot is one of the most well-loved concept stores in Amsterdam thanks to its thoughtful edit of clothes, homeware and accessories. Spread over two floors, the store itself is a pleasure to browse in, with high ceilings and a light and airy atmosphere. They stock lots of sustainable brands and put a focus on ethical materials and cottons. They also sell a gorgeous range of coffee table books which would make a beautiful gift for a loved one. The store on Rozengracht is perfectly placed for a bite to eat in the 9 streets which is home to some of the best brunches in Amsterdam.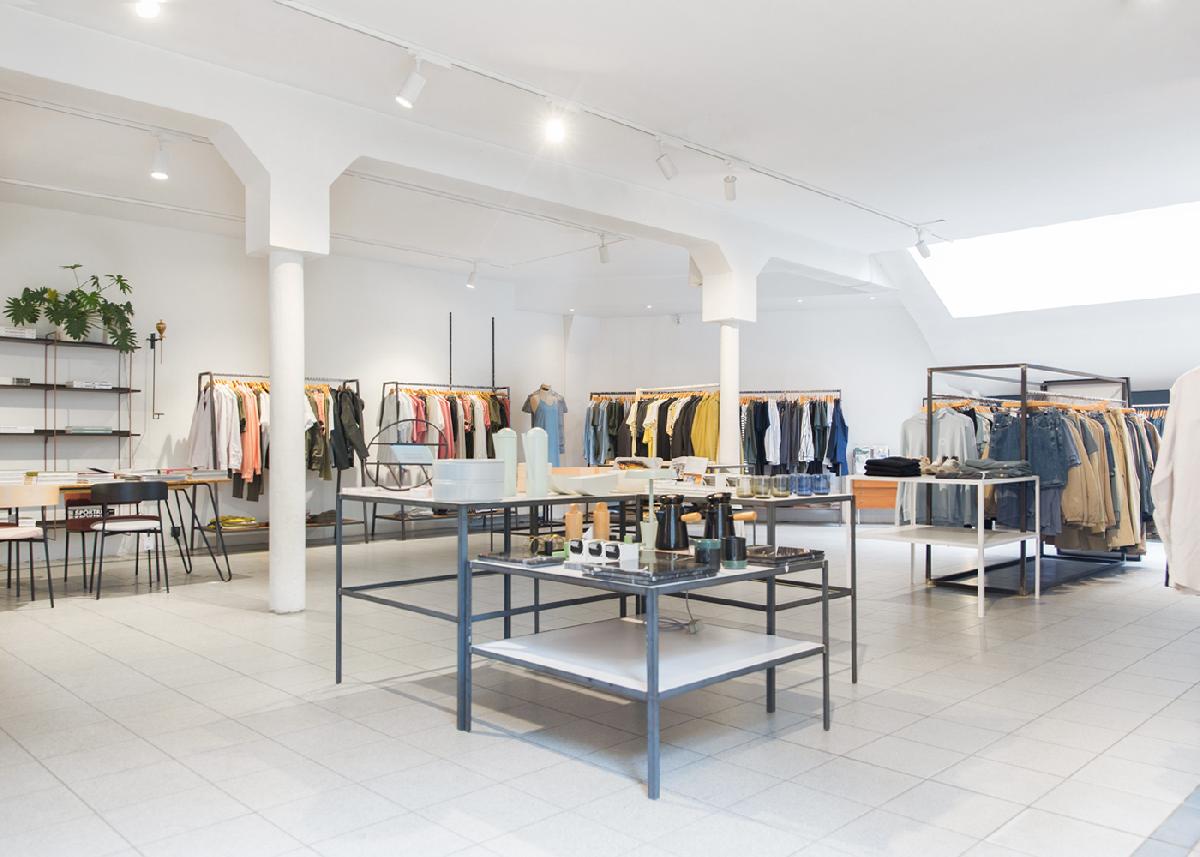 Source: Hutspot
If you're a bit of a vintage fiend, then you'll love Amsterdam, the city is full of brilliant vintage shops. The most famous is probably Episode which has a number of boutiques around the city. There's a large one on Spui and a huge one in the nine streets. The prices are very reasonable and you'll find clothes from all eras and a wide range of accessories and jewelry too. While we all start to think about where our clothes came from and try to be more sustainable, shopping vintage is a very environmentally-sound option.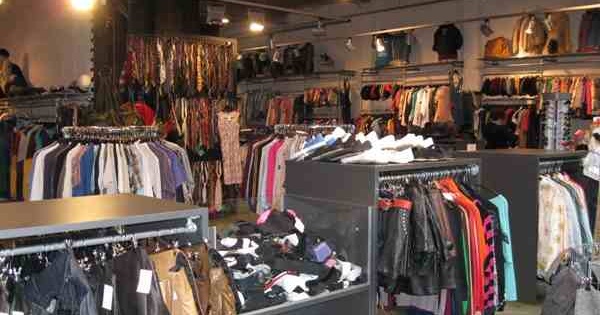 Source: Like a Local Guide
Holland is famous for its cheese and Amsterdam has no shortage of cheese shops. The Amsterdam Cheese Company has no less than 5 branches dotted around the city centre, so you'll never be far from some world-class Dutch gouda. Some Dutch cheese makes the perfect souvenir from a weekend in Amsterdam and this store specialises in weird and wonderful flavours. Their classic dutch gold is a safe bet but if you're feeling adventurous why not try the champagne or pesto flavoured cheese. There are always plenty of testers in store and the staff will be willing to help you find the perfect cheese.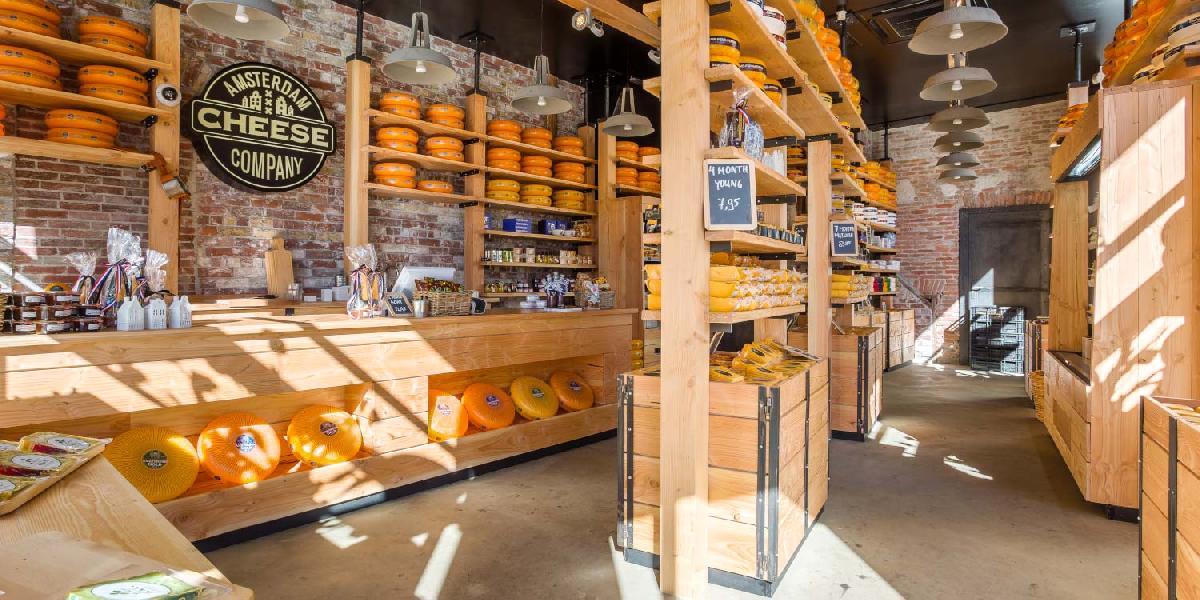 Source: Amsterdam Cheese Company