From its classical bistros to world famous monuments and art galleries, there's so much to enjoy in Paris. To make your trip as enjoyable as possible we've found 11 of the best luxury apartments in Paris to rent that will make sure your stay is unforgettable.
If you like being in the centre of the action, then you'll love this apartment located at the back of the Louvre, one of the most famous galleries in the world. The loft style apartment can accommodate up to five guests and is within easy walking distance of many of the city's main sights. And if you've got a sweet tooth then you'll love being close to Angelina, a dessert cafe that is known to serve the best hot chocolate in Paris.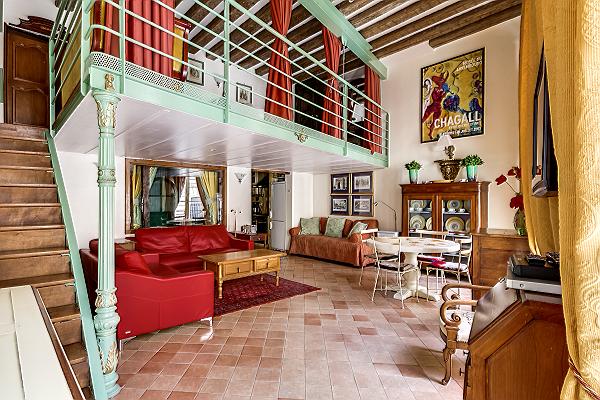 This luxury apartment in Paris feels like haven away from the hustle and bustle of the city. The spacious apartment is located inside a charming courtyard with its own landscaped garden. Don't let the peaceful atmosphere fool you though – you're still near many of the city'a restaurants and attractions. And the best part? You'll have one of the best crepes in Paris right on your doorstep.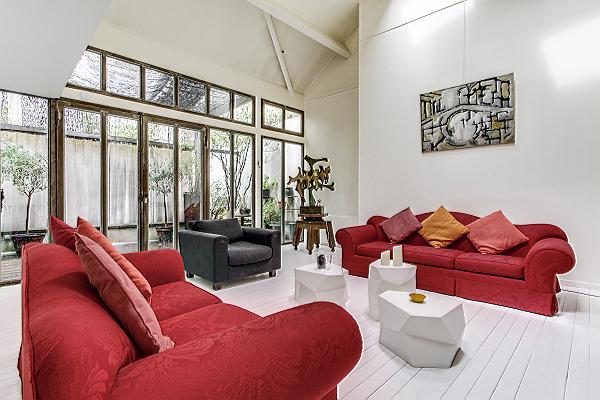 Known for its lively and colourful open-air market, the Montorgueil street is just a stone's throw away from the Louvre and the Seine, meaning you couldn't find a luxury apartment in Paris with much more of a central location. You're within walking distance of nearly everything, or if you want to cover more ground, it's the perfect place to rent a bike and see the city on two wheels. The light and spacious apartment has three bedrooms and is furnished to the digests standards with a mix of traditional and modern design.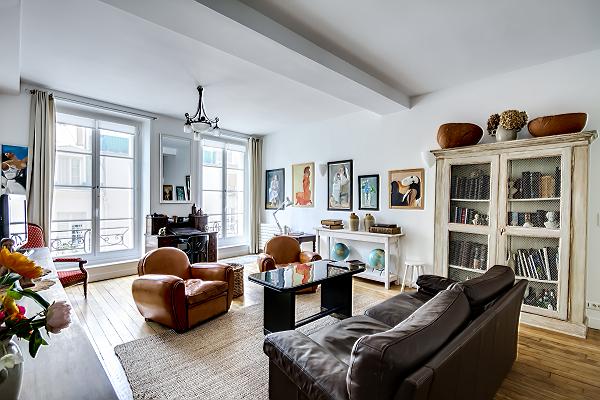 This charming apartment is located in one of the best areas to lives as an expat in Paris, the Marais. You'll be neighbours with the city's trendiest residents and get a true taste of Parisian life. There a number of bakeries, boutiques and restaurants right on your doorstep as well as art galleries and the metro. The mezzanine style apartment sleeps up to four people.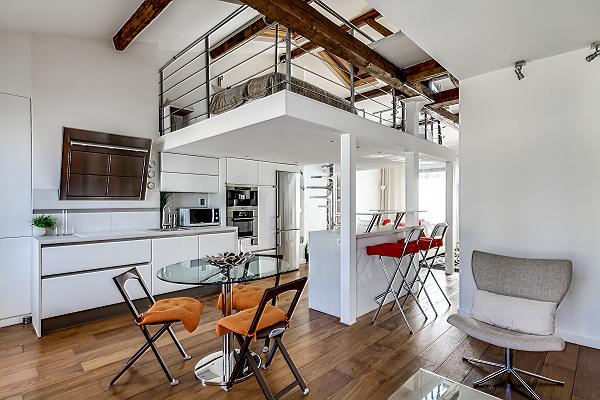 This luxury apartment in Paris feels more like a hotel suite fit for royalty than an apartment. The traditional decor is pleasingly plush and will make you feel like a king or queen. After a peaceful night's sleep in your apartment you'll be able to head out for your morning caffeine fix at one of the best places in Paris for coffee before exploring the neighbourhood. Just a few steps away from the Saint Germain Boulevard, there's a stylish yet relaxed ambiance on the Left Bank.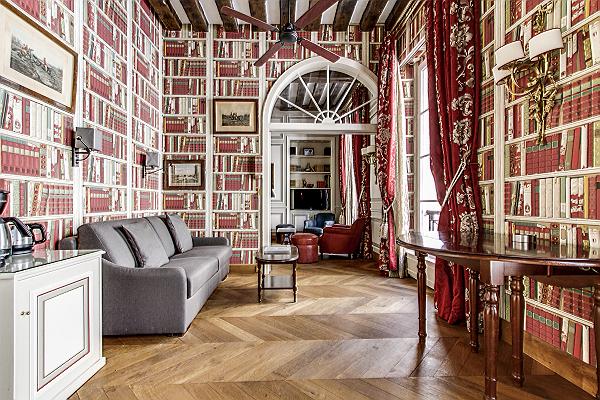 The vintage and antique furniture in this luxury apartment in Paris gives it a unique feel and the spacious layout will have space for up to four people. It's within walking distance to many Parisian highlights including The Pompidou Centre of Modern Arts, Place des Vosges, Picasso Museum, and Bastille Paris Opera. A stay in Paris wouldn't be complete without indulging in some pastries, and lucky for you, you'll be right next to one of the best bakeries in Paris.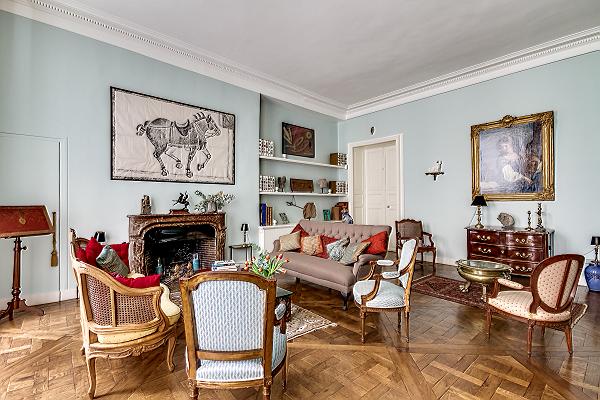 Located in Montmartre, this stunning apartment is perfectly located, providing residents with one of the best views in Paris. The unique accommodation is a penthouse mansion divided into three floors and comes equipped with its own luxurious spa and roof terrace. The sleek interiors are modern and stylish. The village-like Montmartre neighbourhood is a wonderful place to experience Paris like a local.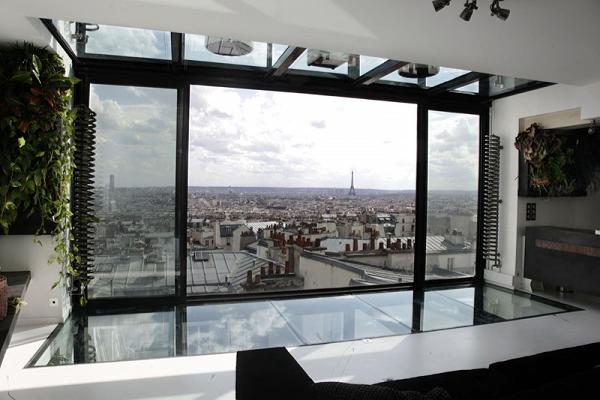 If you're visiting Paris alone or as a couple then you won't need much space and this studio apartment in Saint Germain des Prés is perfect. The apartment is small but perfectly formed and has all amenities you need for a luxury break in the French capital. It's also located near many of the city's most iconic sights.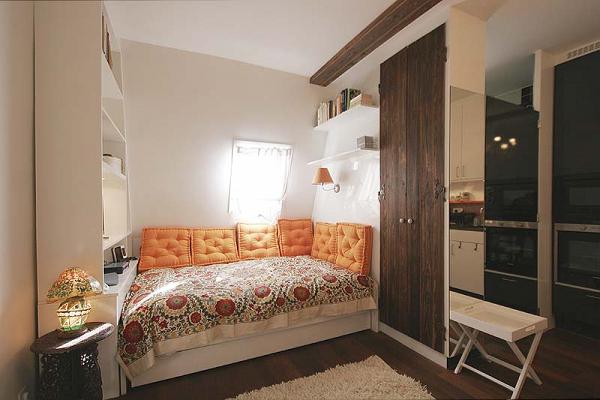 If shopping is your vice then you'll love staying in this luxury apartment on the corner of the Champs Elysées. It's perfectly located for exploring all of Paris's most famous designer boutiques from Louis Vuitton to Dior. After some retail therapy, enjoy a chilled glass of champagne on your private balcony as you look down on the bustling streets below.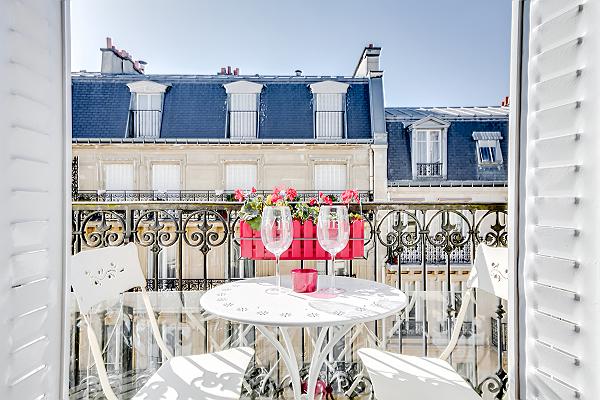 Located between Luxembourg Garden and Rue de Rennes in the 6th district, this beautiful apartment is endowed with magnificent views of Paris from every angle. To the east, you have a balcony, to the west, you have a large terrace. There's plenty of space for up to four guests and you can even entertain on your private terrace. This apartment has a fully equipped kitchen but if you don't fancy cooking while on holiday, then head out for eggs and bacon in the morning at one of the best breakfast places in Paris.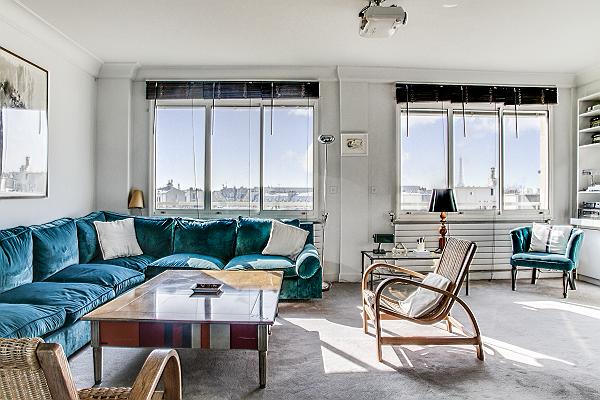 If you stay in this Marais apartment, you'll probably never want to leave the neighbourhood. The street its on is full of lively cafes, stylish boutiques and independent galleries. The modern mid-century interiors are achingly hip and will make you feel at home in this trendy neighbourhood. One of the many highlights of this luxury apartment is the huge terrace. The outdoor area is almost as large as the apartment itself and is covered in lush green vegetation, making it the perfect place to relax after a long day sightseeing.