If you're visiting London on your own or with your partner, you won't need much space. After all, you'll be out exploring the city most of the time anyway. So book yourself into one of these studio apartments which have everything you need all in one place and enjoy the convenience of studio living.
This modern London apartment rental is conveniently located close to London city airport so is perfect for business travellers as this is a popular travel hub for corporate trips. It's located in the popular City Island development and is close to the financial centre of Canary Wharf and has sweeping views across East London. The modern apartment has everything you need with clever partitions to separate your sleeping and living area.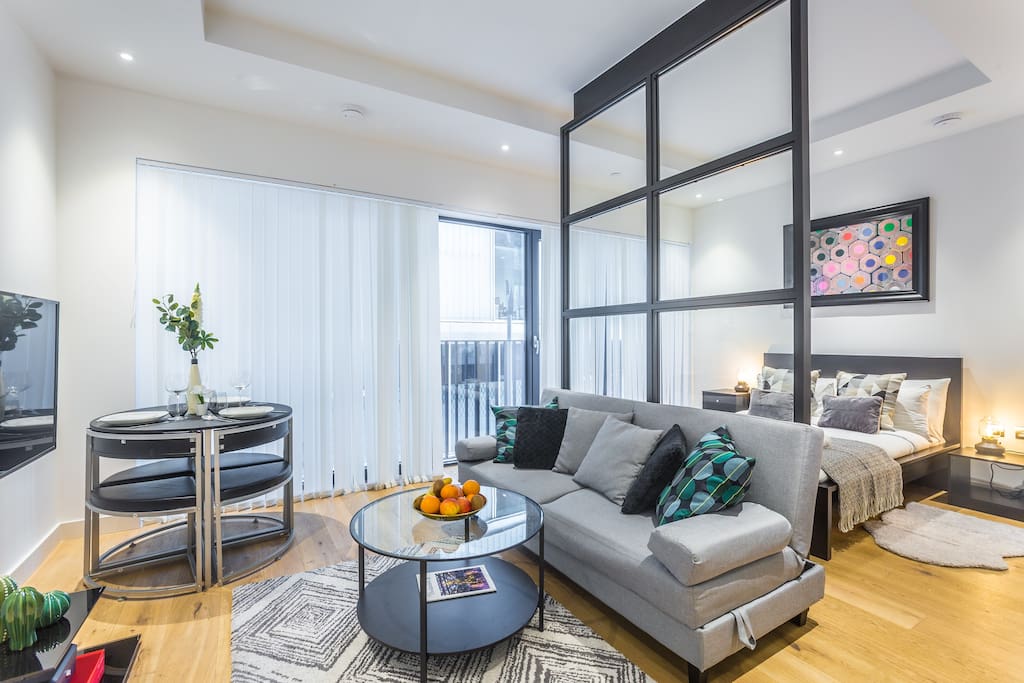 Just one minute away from Earl's Court is this modern and compact studio apartment. The bedroom is actually on a lower level to the living space so it feels bigger than it actually is. The colourful property is decorated with bright furniture and lots of yellow and blue.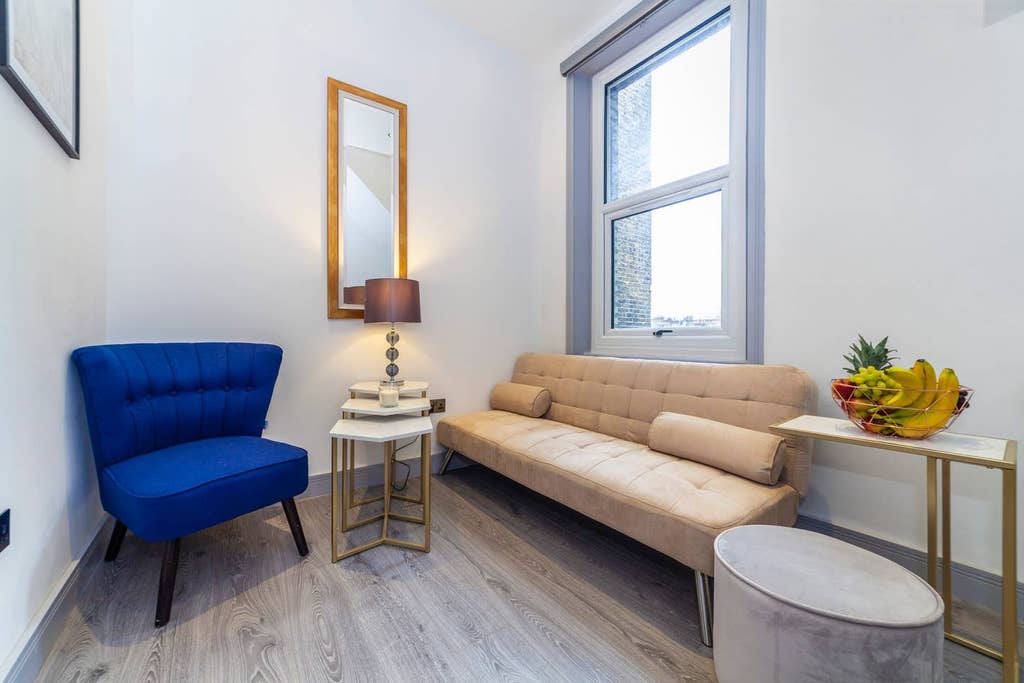 This beautiful studio apartment is inside a characterful London townhouse in the historic Holborn area near Clerkenwell Road. You'll love walking around the narrow local streets which are steeped in history and full of exciting tales. Grab your morning coffee from the Monocle Cafe which happens to serve one of the best lattes in London and then spend the day looking in the shops. You're also very close to the iconic British Museum.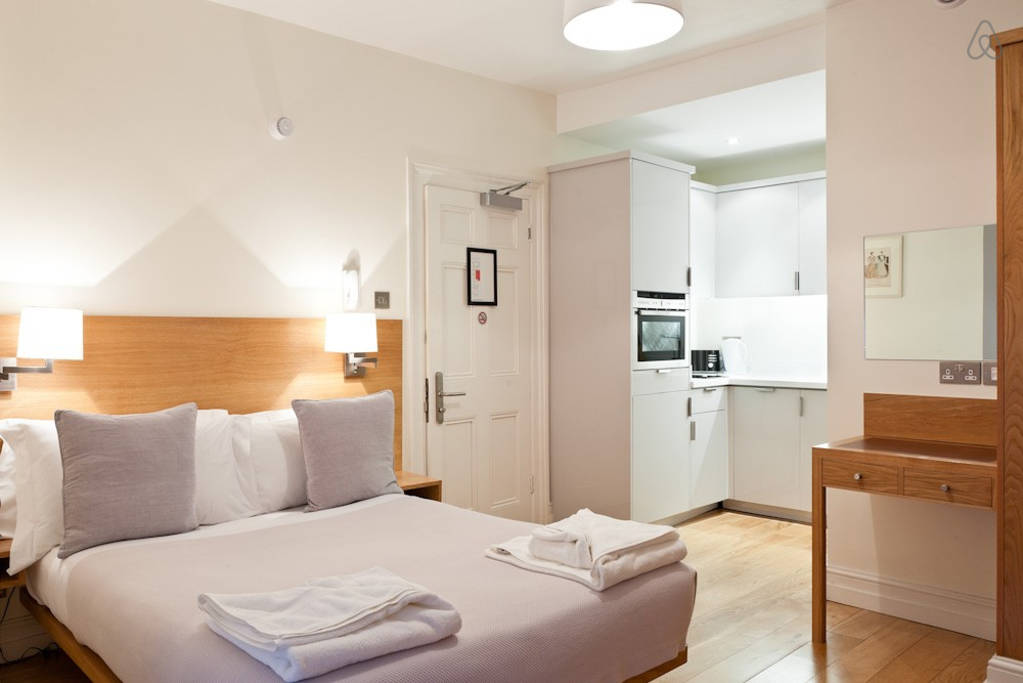 Not all studio apartments in London boast as much space as this lovely apartment which has a separate kitchen area where you can cook up a storm and make the most of the extra space. There's even a small breakfast bar where you can eat your creations. Close to earl's court, this studio apartment is close to lots of tube stations and bus routes.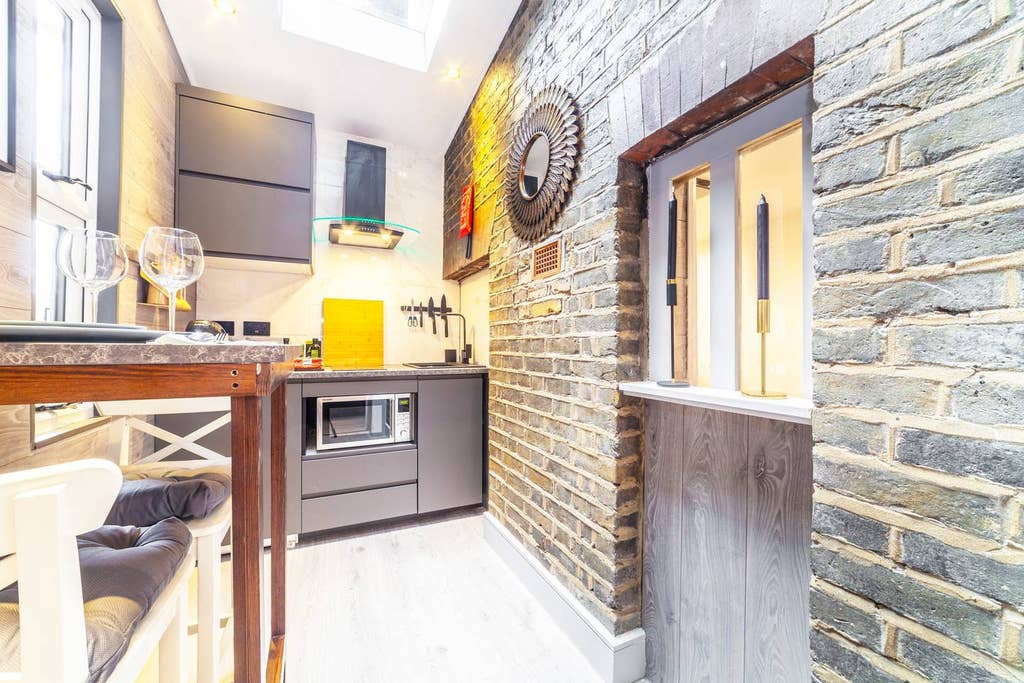 This cosy flat near Belsize Park is a convenient base for your next trip to London. Even though there is a small kitchen, you're on holiday so you don't want to have to cook. Instead head out for brunch near your apartment at Caravan which serves one of the best brunches in London.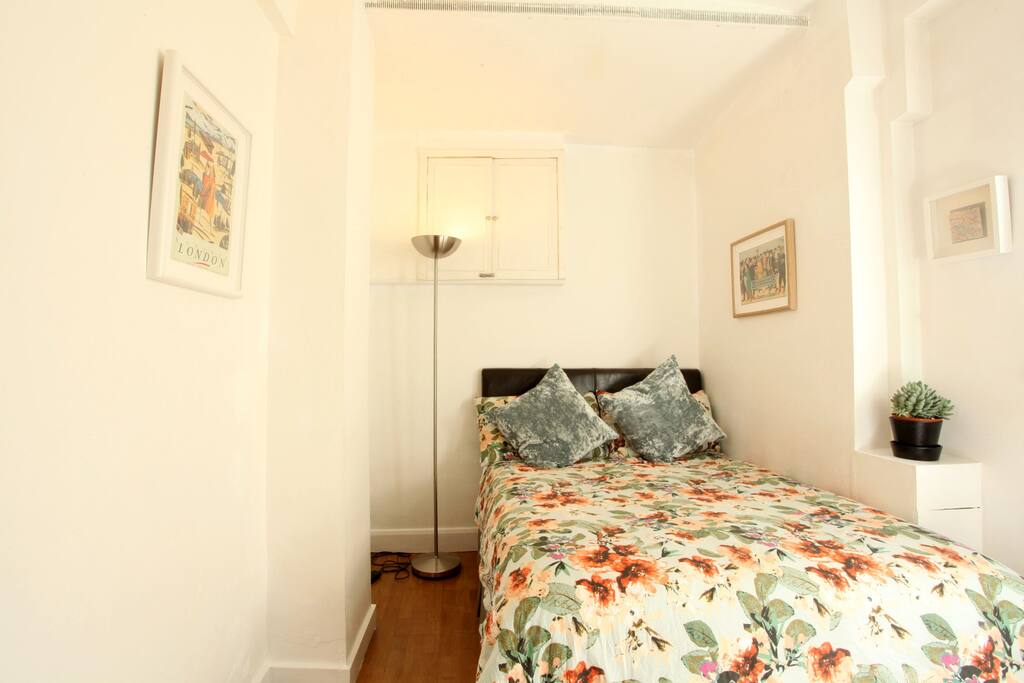 This apartment is actually not strictly a studio, because it has a door on the bedroom, but the compact size makes it perfect for solo travellers or couples. And the location is one of the best in London! Right around the corner from the iconic Covent Garden, you're perfectly placed for shopping, wining and dining.
When you stay in a studio apartment it can be helpful to be close to some open space so you can get outside and enjoy some fresh air. And this beautiful studio apartment is right near the huge expanse of Hampstead Heath where you can enjoy one of the best walks in London and admire the views of the city.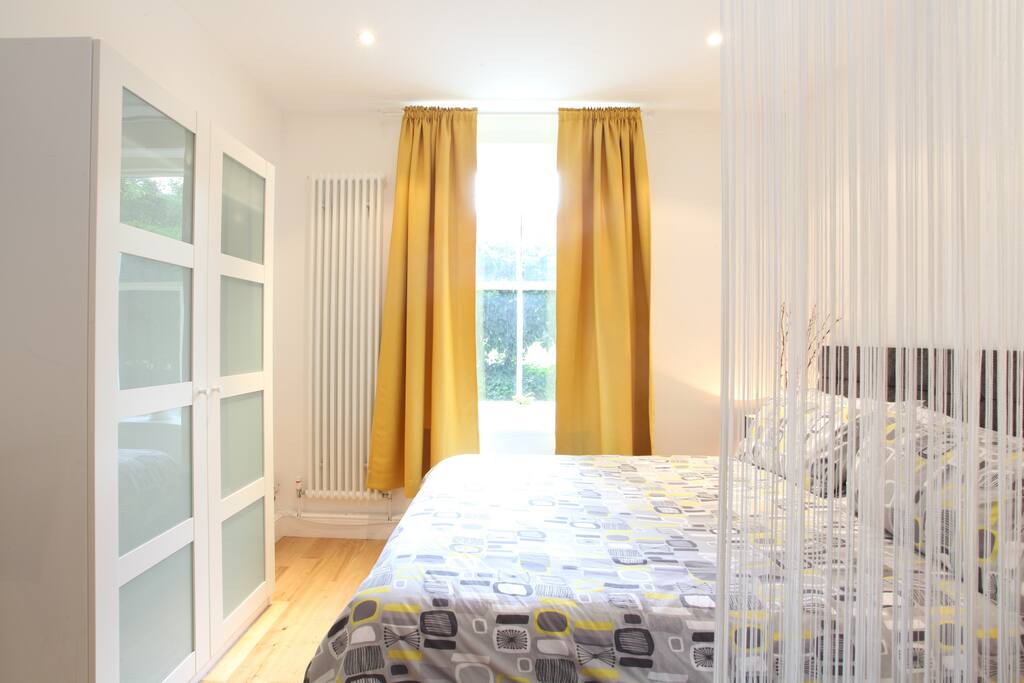 If you venture slightly further out from central London you are guaranteed to get a bit more space for your money and this luxury apartment is case in point. It's close to Shepards's Bush so you're still on the central line, but it is in a relatively quiet neighbourhood. The apartment itself has a large living space with plenty of natural light.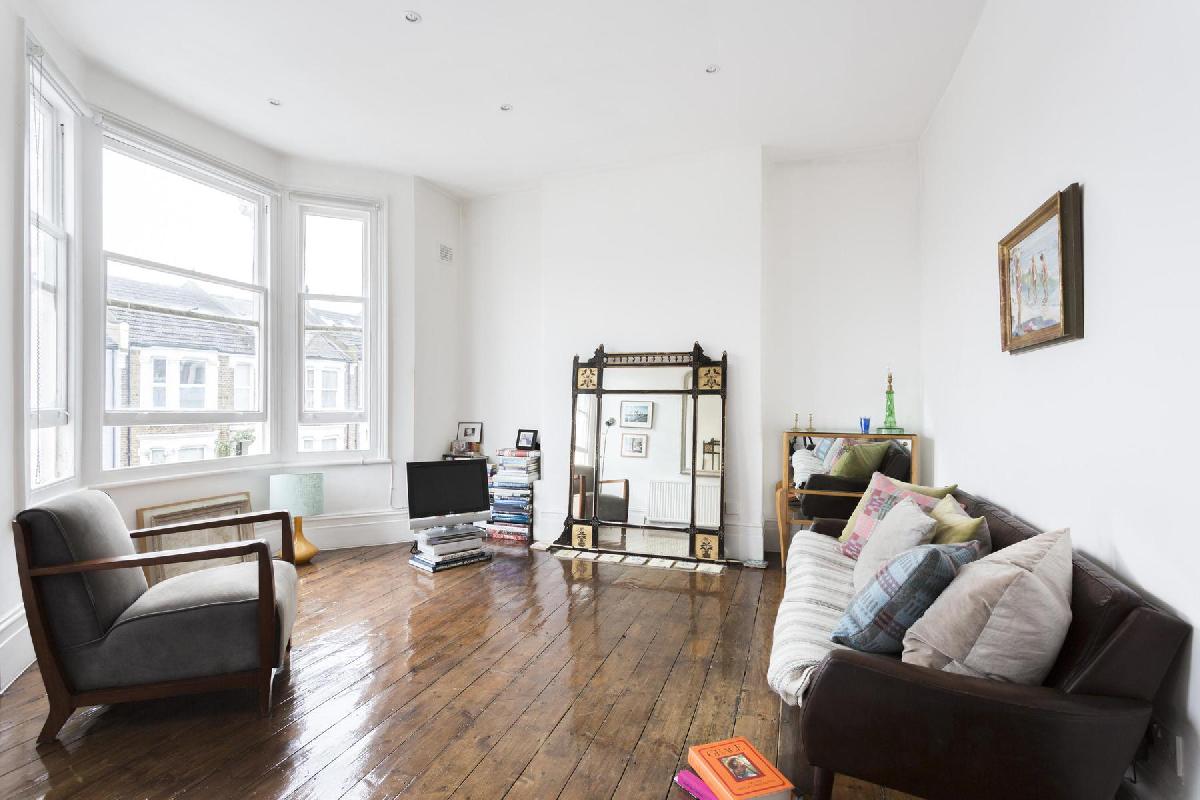 Warehouse style apartments often have lots more space than more modern ones and this amazing property near London Bridge is case in point. The high ceilings, amazing windows and neutral furniture all give the impression of even more space. Borough Market and Southbank are very close so you'll have plenty to keep you busy.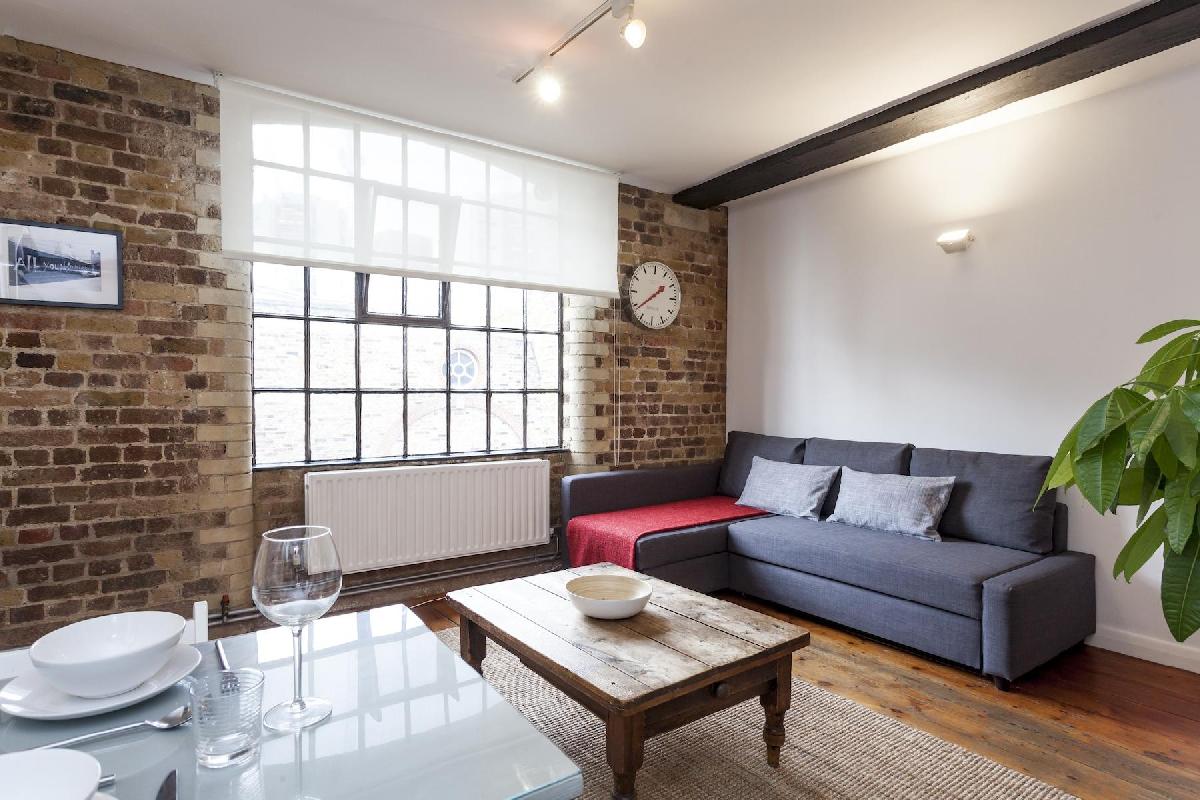 Christened the silicone roundabout thanks to the huge number of start-up tech companies in the area, Old Street is a thriving creative area of London, close to Shoreditch and a short bus trip to Oxford Circus. This amazing apartment near Old street is a multi-level studio apartment with a mezzanine bedroom. The stylish interiors are like something from a magazine and you'll certainly feel like you fit in with all the trendy locals.