About Santorini What's the Food Like in Santorini? The Most Notable Neighborhoods in Santorini Must-Visit Places in Santorini How Much Does it Cost to Stay in Santorini? General Customs You Need to Know Traveling Within Santorini Healthcare in Santorini What's the Food Like in Santorini? Important Holidays in Santorini Relocating to Santorini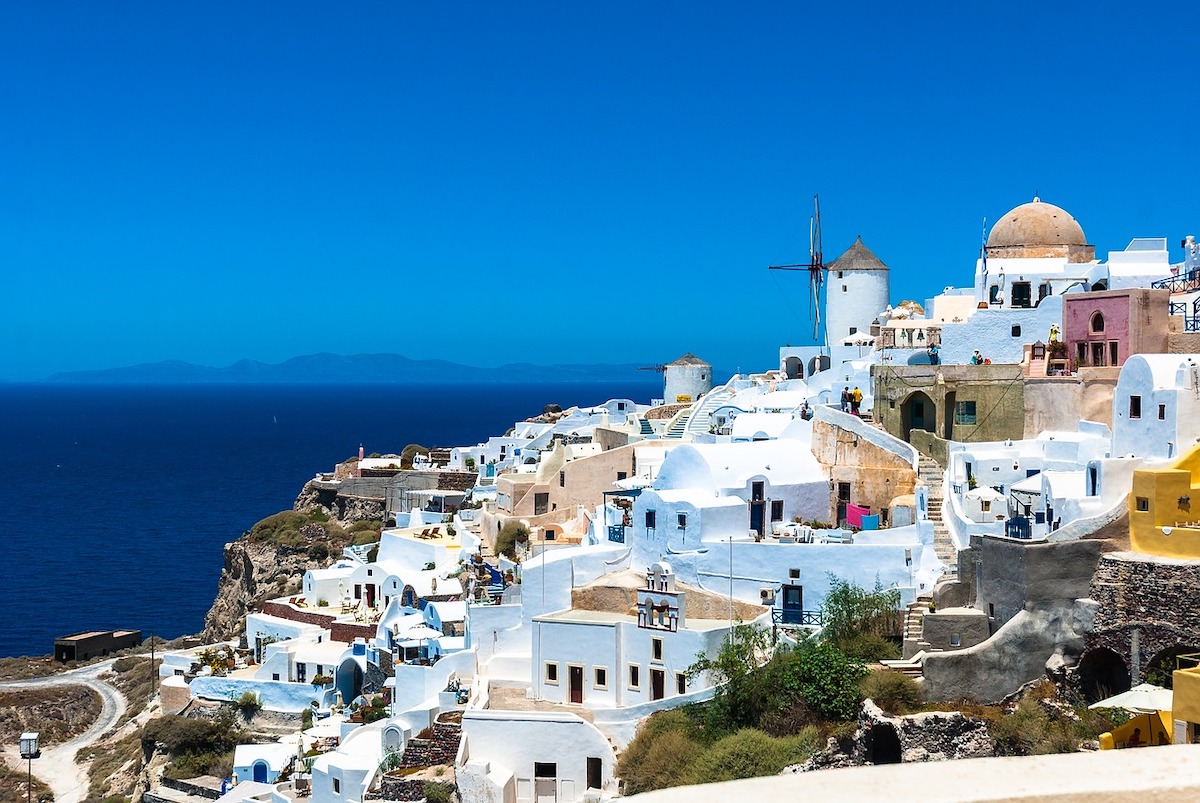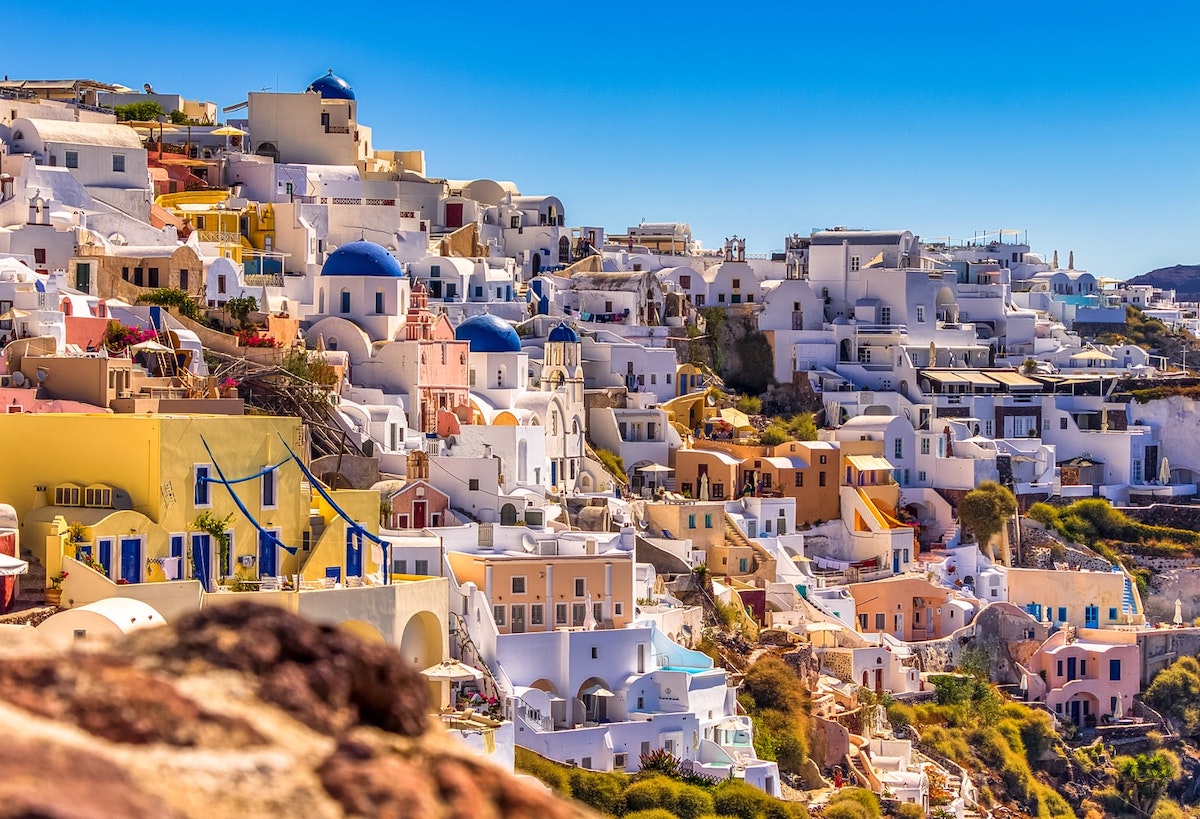 About Santorini
Ahh, Santorini! Is there a place more dreamy than this? The whitewashed towns, the vast Aegean Sea, the warm breezes—practically everything about this island is heaven-sent! It's no wonder Santorini is one of, if not the most popular destination in Greece. Its popularity can rival even those of Athens and Mykonos, as well as other beloved places in the Mediterranean. But how much do you really know about Santorini yourself? Do you think you know enough that when you get here, you'll feel at home on the spot? Truth be told, you might be surprised how much there is to still learn about Santorini!
For now, as of 2021, Santorini has a population of 15,550 residents. Despite its popularity, the island doesn't have much in terms of locals. Even though its fame is massive, Santorini is still one of the smaller Greek Islands, after all. It's clear that, if Santorini ever seemed crowded, most of the people here were actually tourists. Nevertheless, the island's foreign communities are growing, albeit slowly. Most of them choose to set up businesses in Santorini since it's a well-visited tourist destination. But despite this, Greek remains the dominant language on the island. Learning the language, either before or while you're here, will greatly benefit you!
What's the Food Like in Santorini?
Although Santorini remains sunny all year round, a good travel tip is to go here around April to early June or September to October. Firstly, in terms of weather conditions, these months have milder weather patterns than all the others. It's pretty obvious that Santorini is a very hot place to begin with, but July, the peak of summer, is when it's hottest. This month has an average temperature of 26°C (79°F). The coldest month, on the other hand, is January, which has an average temperature of 12°C (54°F). Secondly, the spring and early autumn seasons are the off-season months for tourists, meaning there are fewer crowds to get in your way when you're here!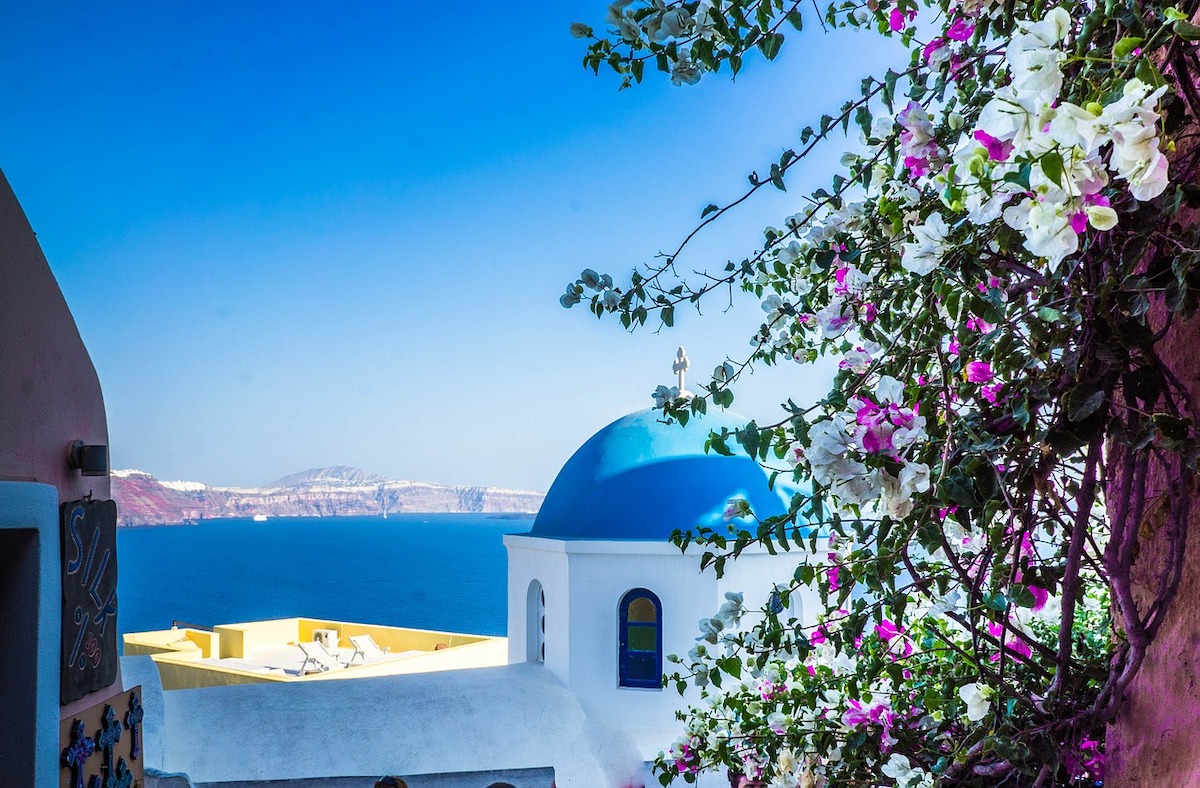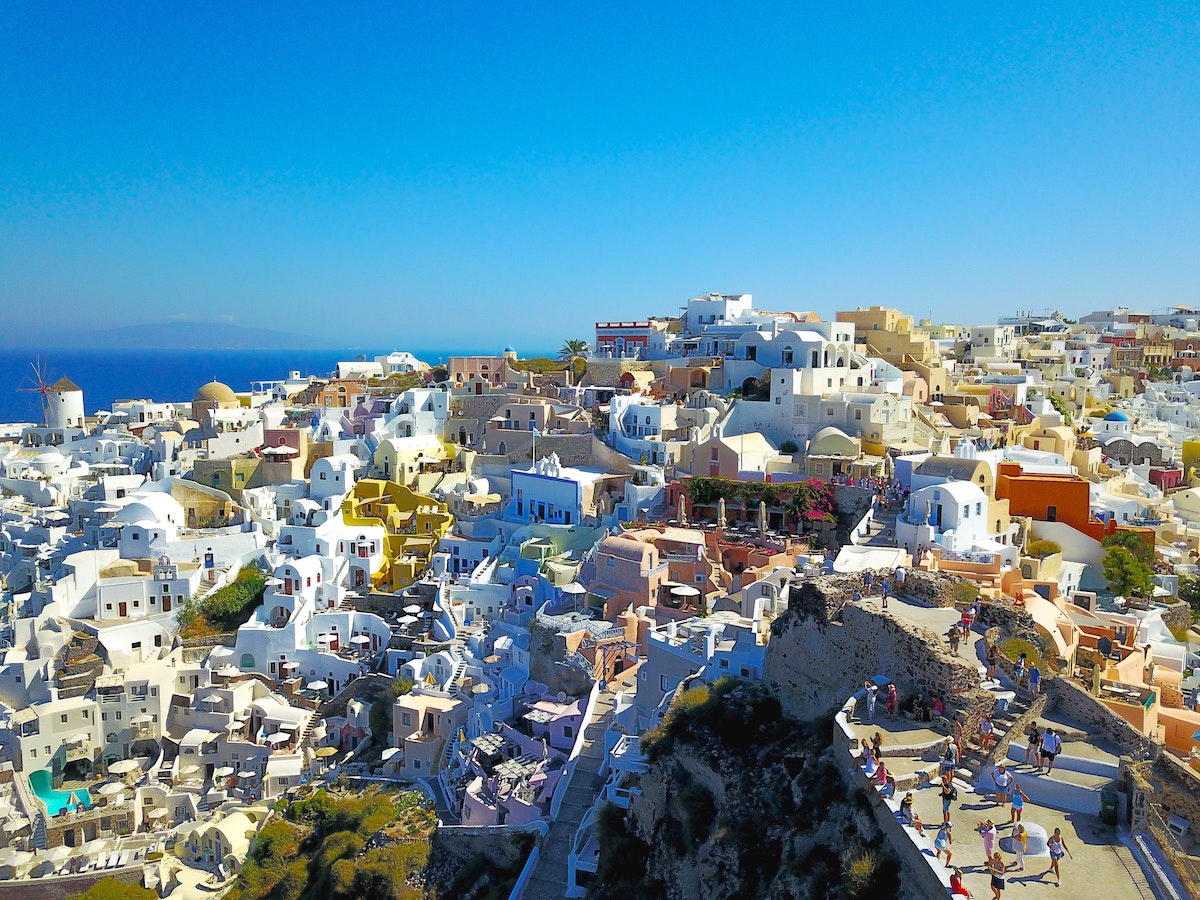 The Most Notable Neighborhoods in Santorini
There's more to Santorini than just the whitewashed towns and beautiful costs. The island also has different neighborhoods that offer all kinds of wonders. And you won't know what they are until you explore them yourself! A good example is the town of Emporio, a place known for its history and heritage. If you're a fan of Greek Mythology, you'll definitely enjoy your time here! But if you're more interested in Santorini's natural wonders, you might like Firostefani the best. It's the closest you can get to the island's volcanoes. And don't worry! There are luxury homes here that can accommodate you just fine!
Must-Visit Places in Santorini
Although Santorini island itself is already a must-visit in Greece, that doesn't mean there aren't a few notable places that you just have to see for yourself. While relaxing and enjoying a more slow-paced lifestyle are what the island has become known for over the years, there's still a lot you can do here as well.
Not the least of which is sightseeing! Of course, there are the famous whitewashed towns of Santorini, most of which are more stunning than the next. The island's coasts also have something to offer in terms of breathtaking views as well as some fun under the sun.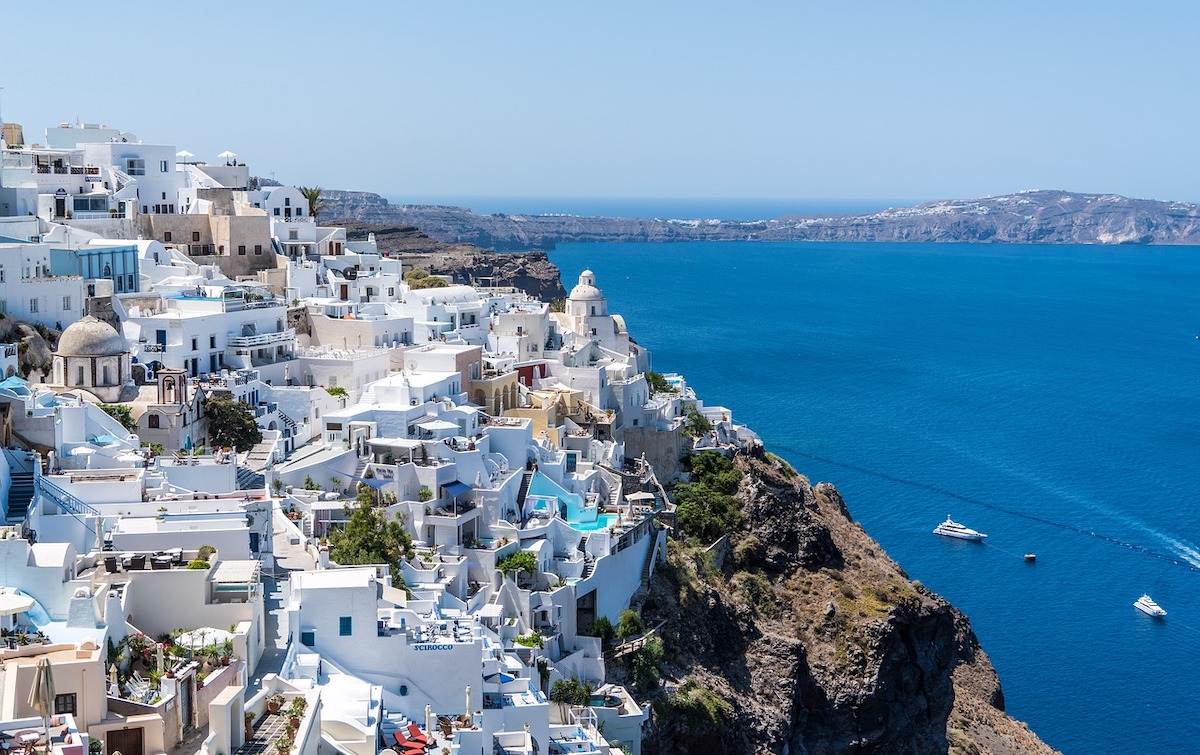 How Much Does it Cost to Stay in Santorini?
It's easy to think that because Santorini is such a popular destination, it'd be an expensive city, right? After all, another Greek Island, Mykonos, which shares around the same amount of fame as Santorini, is quite a costly city. So what about Santorini? Well, the truth of the matter is the costs on the island aren't that high. The common rental fees alone only range from around €500.00 to €2,000.00 a month. And when it comes to food, €65.72 is enough for groceries that can last around one to two weeks tops. Not bad for a Greek Island, right?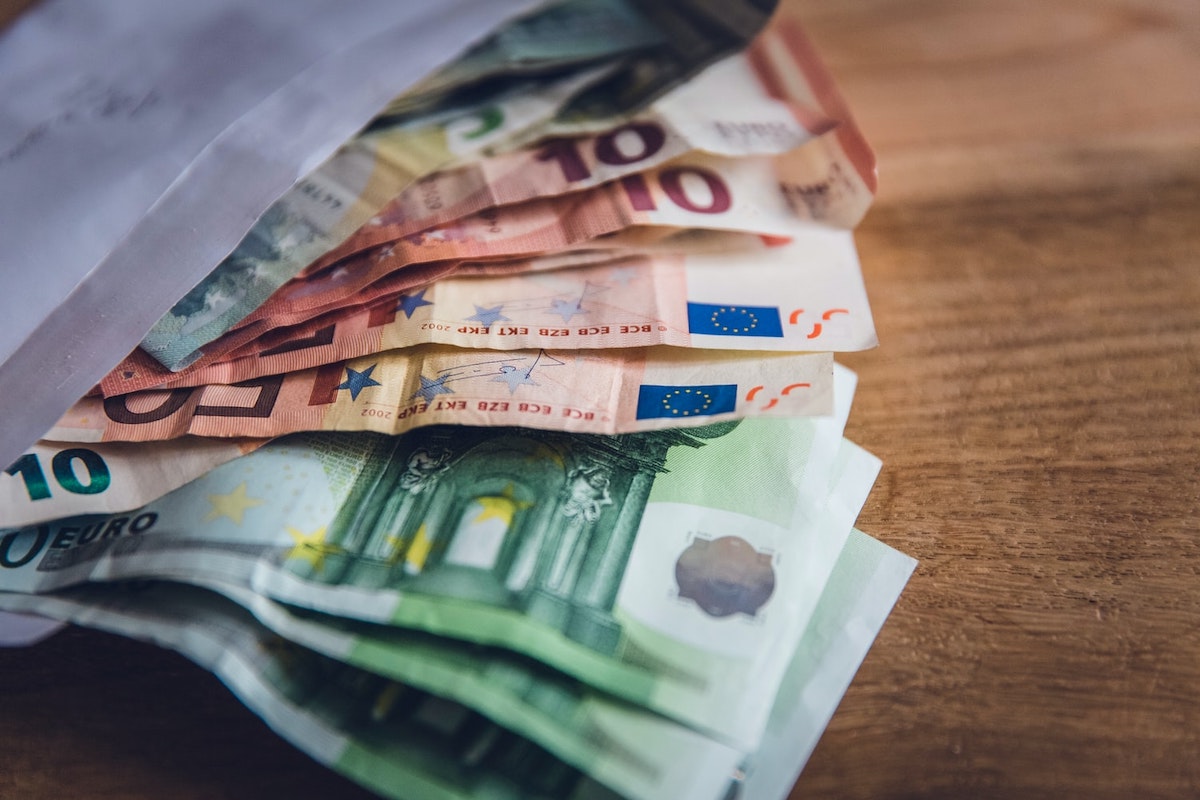 General Customs You Need to Know
Even before coming to Santorini, you ought to know that the Greeks are boisterous and lively people. So as far as their social customs are concerned, they're very intimate and personal.
For instance, the Greeks tend to invade people's personal space, even if it's their first time meeting them. They will hug and embrace you and even ask very personal questions. If you didn't know this beforehand, you risk responding in an unflattering or even offensive way, thus creating problems. And all this could've been avoided had you only known and prepare for it beforehand!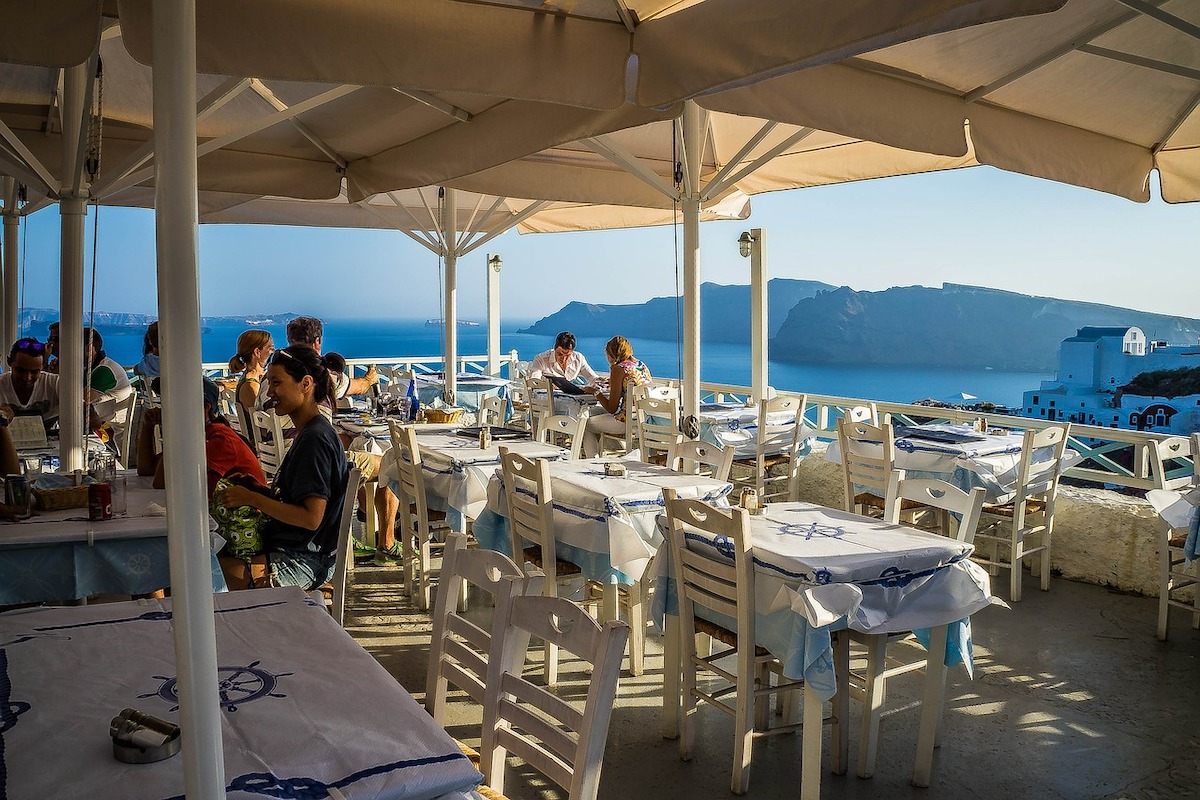 Traveling Within Santorini
No matter how popular a destination Santorini is, public transport here still leaves a lot to be desired. This isn't to say that the situation is bad or anything like that, but it could use some major improvements nonetheless. For now, your only options are to take a bus or get a taxi, and most of them depart from the central capital city of the island, Fira. You can, however, rent a vehicle for yourself instead. While this option allows you more freedom to explore Santorini at your own pace, do note that the roads and pathways on the island aren't exactly that vehicle-friendly to begin with.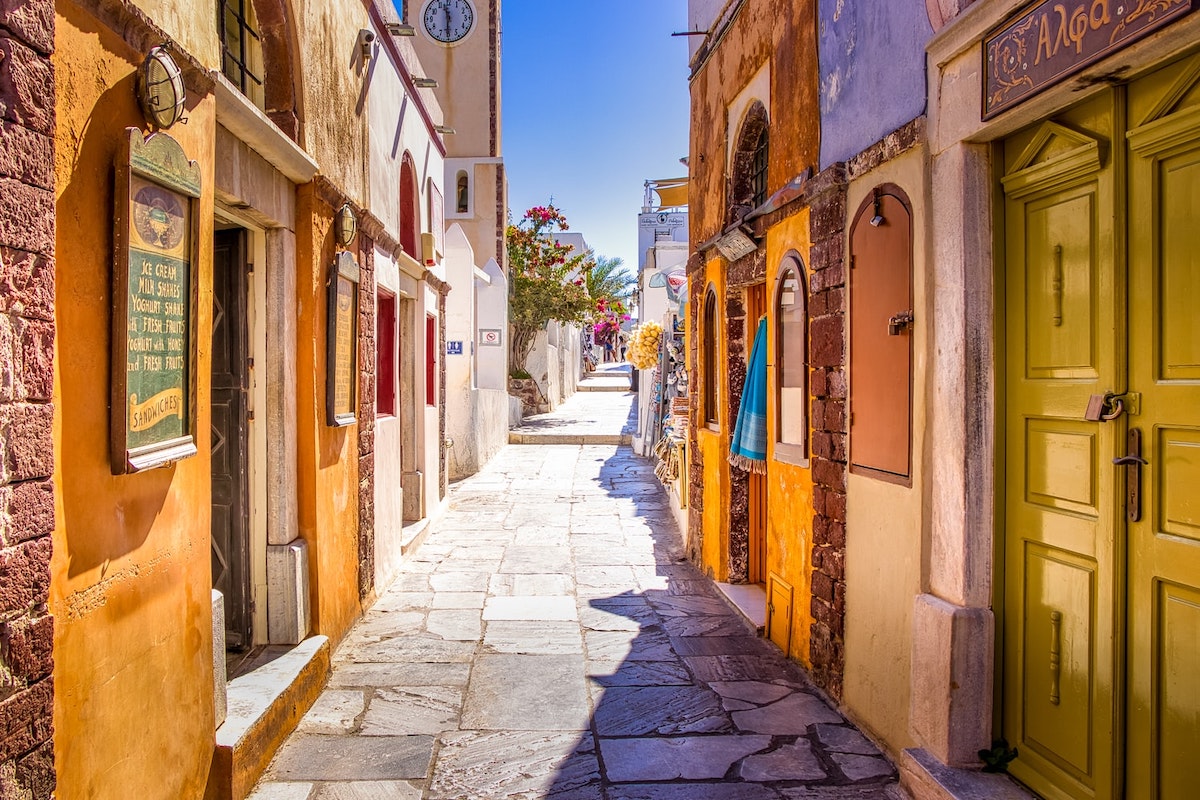 Healthcare in Santorini
As far as healthcare in Santorini is concerned, you have very little to worry about. As long as you're covered, whether via Greece's healthcare system or your own private coverage, you can rest assured that you'll get treated here with no problem at all. Moreover, although the island may seem scarce in terms of healthcare institutions, the few ones that are here are truly top-notch. You can trust the likes of Santorini Hospital and the Central Clinic of Santorini to take good care of you while you're here. No matter how rural and provincial live on the island may seem, thee places are well-equipped with first-class facilities and state-of-the-art medical technology.
What's the Food Like in Santorini?
Santorini is probably far from what many would consider as a 'food capital' but that doesn't mean the culinary scene here is, in any way, lacking! On the contrary, the island offers a myriad of excellent foodie hotspots, ranging from humble coastal taverns and family-owned restaurants with amazing views to fine dining at its best.
But in terms of what to eat in Santorini, however, you can rest assured that traditional Greek cuisine reigns supreme. Think juicy Souvlakis where just one bite is already a mouthful. Savory and nutty cheeses that pair well with raki. And, of course, the freshest seafood you'll be lucky enough to enjoy!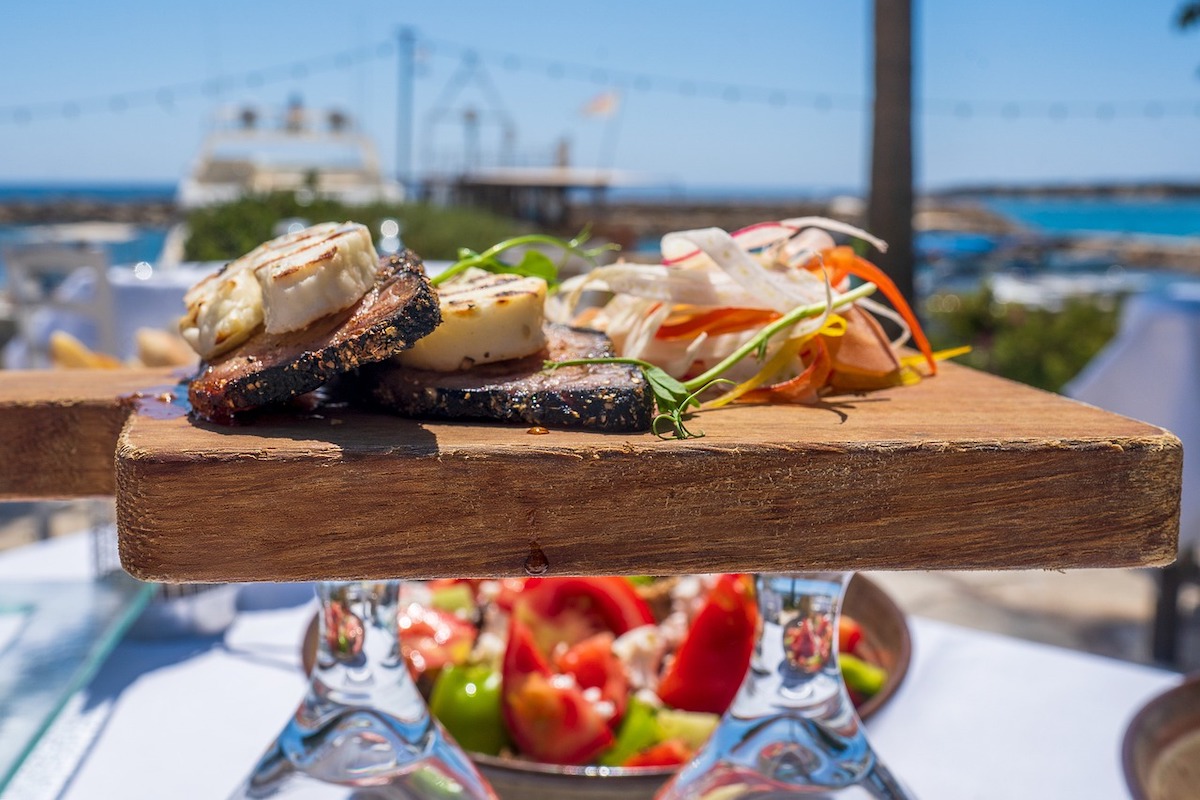 Important Holidays in Santorini
Since Greece has its own Orthodox Church, the country's holidays aren't exactly the same as those in other countries. For instance, instead of observing Ash Wednesday as the start of the Lenten Season, they observe 'Clean Monday' instead. And instead of celebrating St. Stephen's Day every December 26, the Greeks celebrate 'Glorifying The Mother of God.' Furthermore, instead of birthdays, they put more emphasis on their Name Days, referring to the feast day of the saint they were named after. You ought to know these if you plan on going to Santorini on any of these holidays.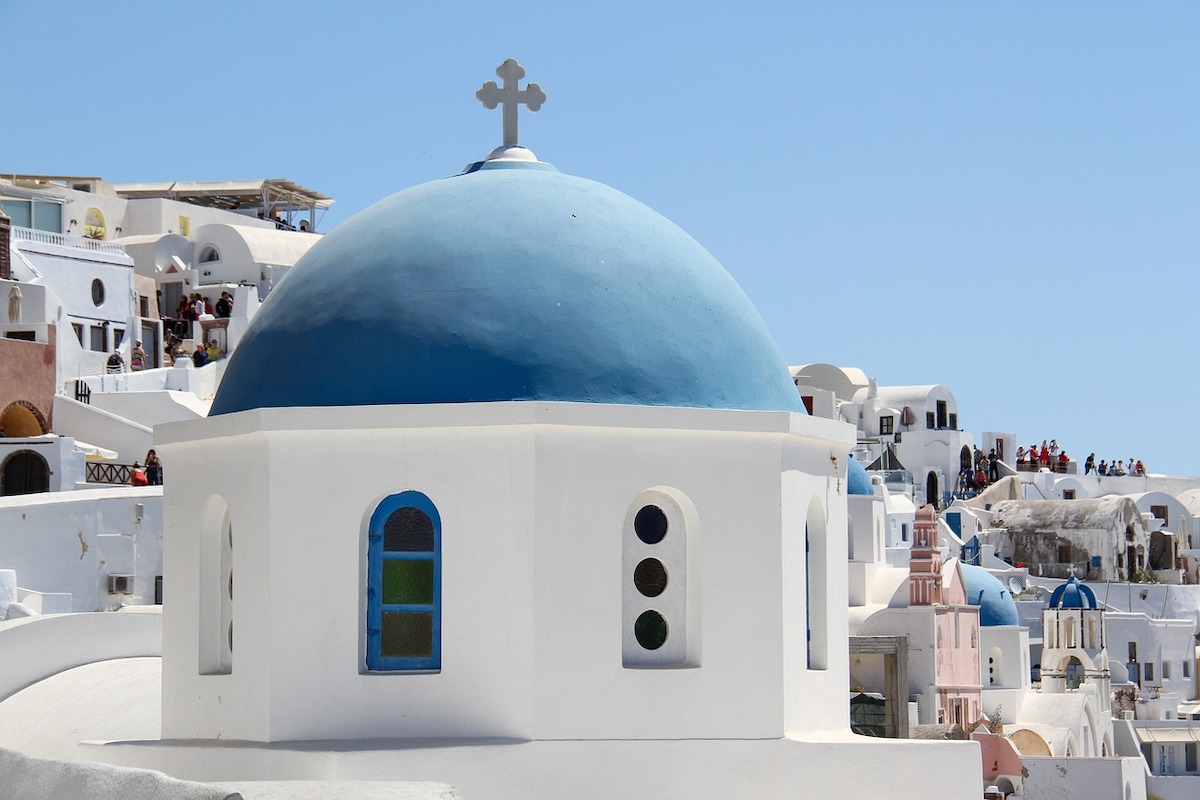 Relocating to Santorini
Santorini is, without a doubt, one of the top holiday destinations in the world. But it doesn't have to stop there. There have been many who've traveled to this Cyclades island and fell so deeply in love with it, they decided to stay here for the rest of their lives. And you know what, that's not exactly a horrible idea!
It will, however, be challenging! This is especially if you're more familiar with a fast-based and bustling lifestyle. But be that as it may, it's no impossible to move to Santorini if you really want to. You can always rely on our relocation guide to help you out as well!