Perhaps you can say that Mykonos retained so much of the ancient Greek love for gaiety. This white-and-blue paradise perched on top of the Aegean is nirvana to thousands of professional party goers from all over. But is that really all there is to it in this picturesque island in the Mediterranean? What makes Mykonos unique from the other Greek islands? In this introductory article of a series about Mykonos, we introduce you to the basics: the best time to visit, what people are like, what to expect, etc. to help you get informed and mentally prepared to experience your ultimate Mykonos adventure to the fullest.
***
Brief history of Mykonos
According to ancient Greek mythology, Heracles (Hercules in Romanian), during one of his twelve labors, had to fight gigantic entities which he ultimately defeated. He then threw them to the sea. The dead entities turned into huge rocks which are now known as the island of Mykonos. But of course, looking at the current geographical map of this area of the Aegean, you would think Heracles may have fought more giants than we were told. What we know for a fact is that the island of Mykonos is only one of the major islands of the Cyclades.
The island got its name from the Son of the King of Delos, a neighboring island whose victory or downfall directly trickled down to Mykonos.
From both archaeological findings and historical records, we know today that the original people of this island were Cares, followed by the Phoenicians then the Egyptians, Minoans, and Ionians. The Venetians took control in 1207 along with the rest of the Cyclades. Then in 1537, it went under Turkish rule. During this period of turmoil, a brave figure arose in the name of the glorified revolutionary heroine, Manto Mavrogenous in 1821. Her courage and efforts ultimately concluded in the independence of Greece in 1830.
But that was not good for the economy of the island's inhabitants. They needed to rebuild after they lost all their ships and most of their assets. Reinforcing the textile industry which is the strongest produce in the island, they were able to pick up pace and build commercial power. Today, textile from Mykonos is considered world-standard high-quality produce and are exported globally.
The increased opportunities for travel during the second half of the 20th century resulted in the increased notoriety of the island in the tourism segment. Many famous names came to the island, and travelers freely advertised its natural beauty. Today, proper management resulted to a booming tourism industry, a success only achieved by collective hard work and rarely attained by other communities as gifted as Mykonos.
Location
Mykonos is a small island located in the center of the Aegean Sea and 150 kilometers east of the Greek capital, Athens. At only 90 square kilometers, it may be the smallest but also the most famous island of the Cyclades.
In the north, the landscape is rocky. In the interior, the terrain is hilly. As you move to the south, the beaches are sandy.
When is the best time to visit Mykonos?
Many tourists flock the island during the summer months when the beach is warm enough for a good swim. It's also when the parties are the wildest. At around June to September, expect a crowd. Around May to October, the crowd starts to thin, hotel rates go back to reasonable range, but you will also be definitely seeing some closed doors.
Language in Mykonos
The natives of Mykonos speak Greek. Fortunately, not knowing Greek anything will not get you into trouble. English is fairly understood by almost everyone. If you somehow encounter a non-English speaker during one of your transactions, you will definitely instantly find one who can help.
Culture in Mykonos
Because Greece is an archipelago, each of its island developed unique characters as a result of being subjected to unique cultural influences and factors throughout history. And Mykonos is not an exception. In fact, it harbors one of the richest, having been a regional naval and commercial center in the most recent centuries. To this day, the island's inhabitants continue to keep in touch with their heritage, proudly showcasing their ethnic identity in various cultural events that happen throughout the year.
If you want to know the most recent cultural events in Mykonos, click here.
What are People Like?
Mykonos is home to around 10,000 Greeks, with majority of them concentrated in the inner towns. Most of Mykonians are Orthodox Christians (98 percent of the population) though you can also find Judaic and Muslim communities in the island.
Mykonos has a reputation for being big on parties and the locals indeed take it seriously. The fun draws in a lot of crowds so at the end of the day, you have a mix of lively people from all walks of life who just wants to have fun.
Be nice. And don't forget to pack your hangover kit.
Currency
Because Greece is part of the European Union, the country uses the unified currency of the EU - the EURO. It may be best to check the exchange rates before coming to the island or leaving your home country. Or, you'd rather change your money beforehand.
Either way, here are some of the exchange offices you can find in the island.
ONEXCHANGE S.A.
14 B. Ipirou Street, 846 00 Mykonos, Mykonos Cyclades
ONEXCHANGE S.A.
Manto Mavrogenous Square, 846 00 Mykonos, Mykonos Cyclades
Banks & Credit Cards
Most establishments now accept most credit cards but it's always advisable to carry around some hard money or cash, especially when smaller cafes and restaurants. You can also find ATMs that accept VISA and Mastercard.
What to See
The island never runs short of majestic, breathtaking views and wholesome sites. Mykonos's beaches are glorious with silky white sands and turquoise blue waters. If you want to have fun far from the reputed rowdy party crowd, head to Psarou Beach. This crowd is unmissable in the more popular Paradise Beach.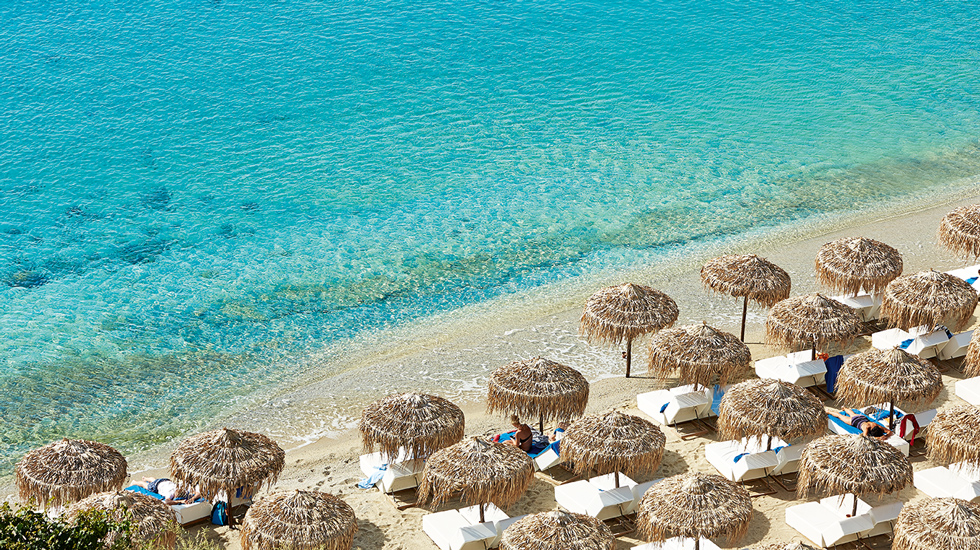 If you want to explore the island's culture, head to the town of Ano Mera and see local life in motion. A day trip to the neighboring island of Delos is also recommended if you're curious to see some marvelous archaeological sites. And of course, the folk and archaeological museums should be on your itinerary as well. Speaking of museums, the Aegean Maritime Museum is just around the corner.
One of the most stunning places to see in Mykonos is the Little Venice, a neighborhood in Chora that overlooks the southeast end of the harbor. Cafes and restaurants line the seafront. The view of the sea and the sunset are lovely from here.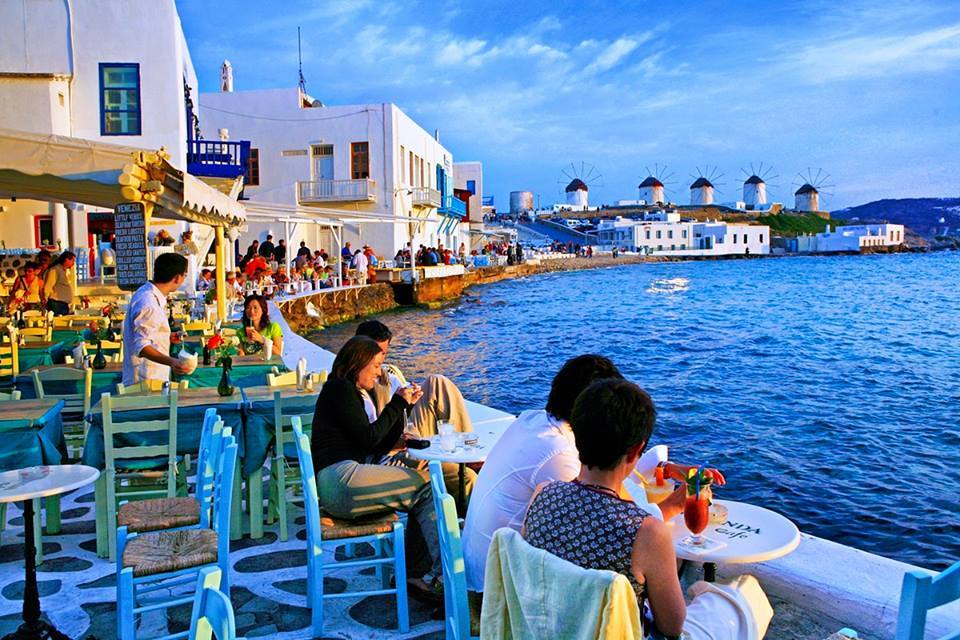 Another amazing site to visit are the windmills (Kato Myli) which overlooks Little Venice. The structures were set up as far back as the 16th century, originally to use wind power to grind grain. There are 16 windmills perched on a hilltop with a view of the harbor. While you're there, you can also drop by the island's Agricultural Museum just nearby.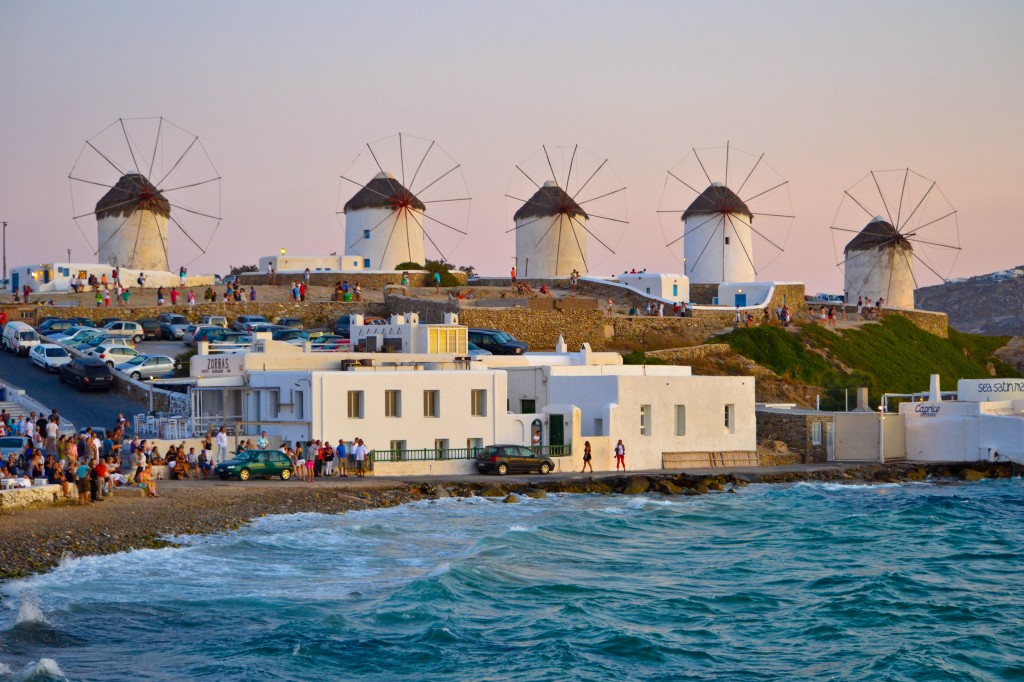 For a more comprehensive guide to the best things to do and see in Mykonos, read this article. [link to article later]
Where to Stay
You can easily find hotels to stay in Mykonos. If you don't want to get too pricey, you can also go to online listings such as AirBnB and VRBO.
Thinking about meeting locals while having free accommodation? Couchsurf! Meet the couchsurfers of Mykonos here.
If you want full luxury accommodation and utmost privacy, we recommend renting serviced apartments or upscale vacation rentals. Here are lovely options to start with.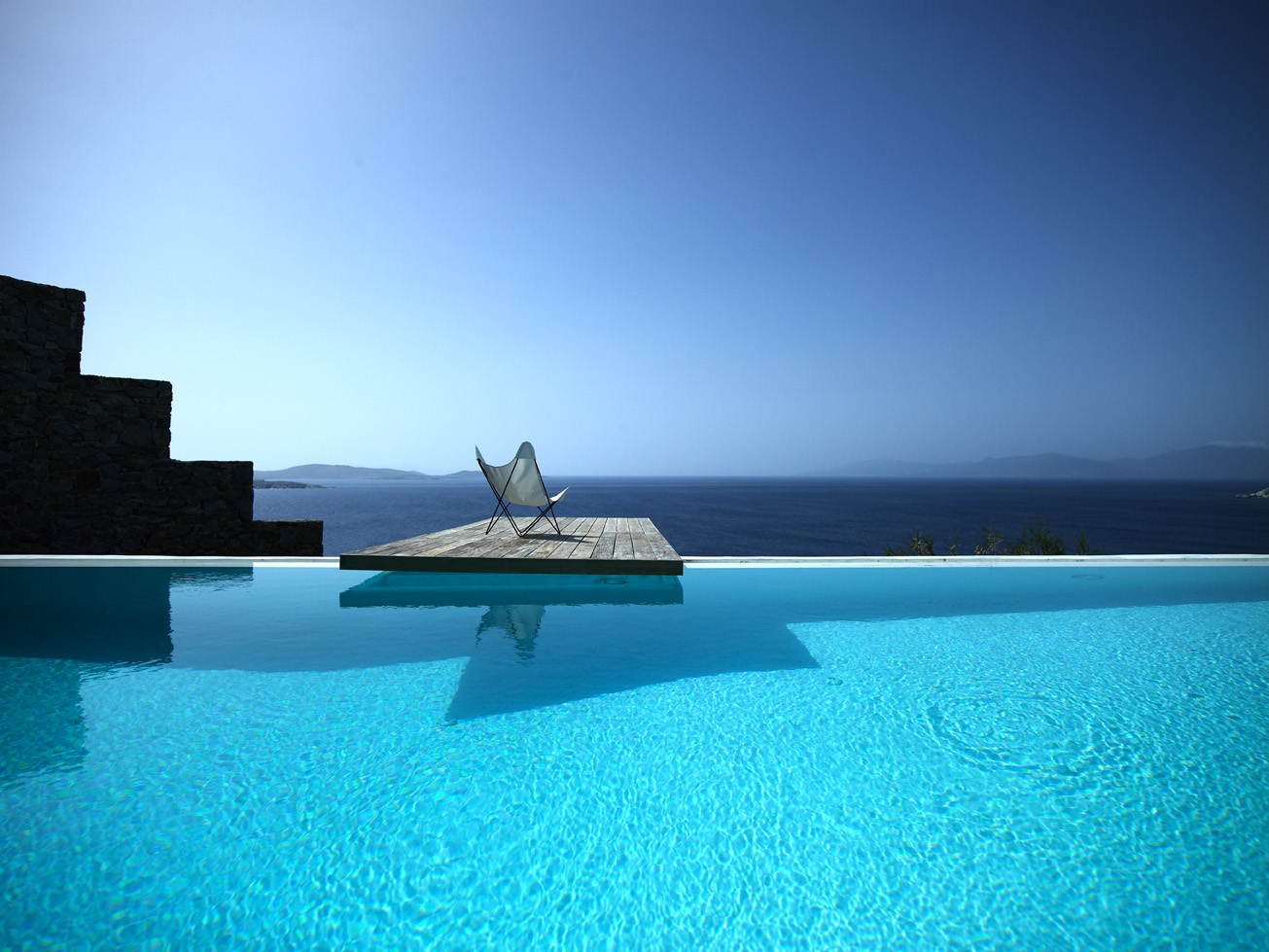 Villa Alexandra, 5-Bedroom/5-Bathroom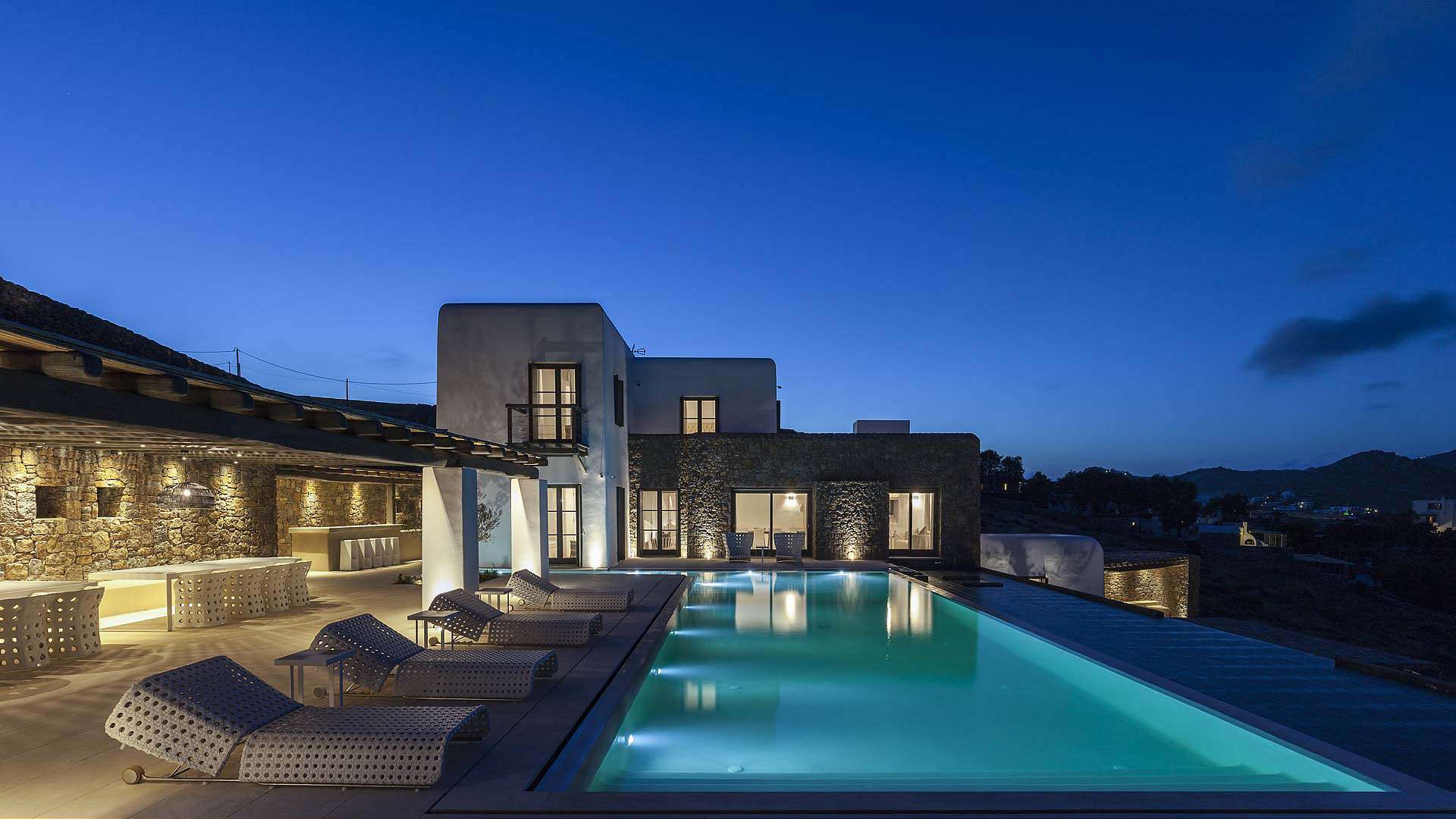 Villa One & Only, 7-Bedroom/7-Bathroom
Where to Eat
Dining in Mykonos is a scenic affair, with stunning views of the island visible wherever you turn. For example, the quaint Kikis Tavern in Agios Sostis has a beach view. This tavern is locally run and gives off a homely vibe with its outdoor grills on charcoal and the inviting waft of barbecue cooking.
M-eating offers some of the best food in the island, housed in a local house that features typical Mykonian design.
The Madoupas Cafe is near the old port and offer different varieties of Greek specialty.
Other great options include:
Hippie Fish located in Agios Ioannis beach

Katerina's bar in Little Venice

Foko's Taverna in Fokos beach

Joanna's Nikos Place near Mykonos town in Notio Aigaio

Ntekoto in Mykonos town

Eva's Garden at the heart of Mykonos town

Avra in Mykonos town
How to Get Around Mykonos
The whole Greek islands are big on boats and ferries. Catamarans regularly depart the ports and inland, you can travel in almost any way possible.
By Bus: it's the cheapest means of transportation in the island. There are two main bus stations:
The North Bus Station is located near the archaeological museum. The routes include to and from Agios Stefanos ,Tourlos, Kalafati, Elia, Kalo Livadi and Ano Mera.

The South Bus Station is located in the Fabrika square which is near the Olympic airway's office. The routes include to and from Ornos, Agios Yannis, Plati Gialos, Psarou, Paraga, Paradise and Airport.
Fare is around 1 to 2 euros, depending on the distance traveled. For more information about bus routes and schedule, please visit this link.
By Car or Motorbike: Of course, if you want to take a certain level of autonomy as to how you travel, get around the island without worrying about catching the bus, just rent a car or a bike. The task may be easier off season. So if you're visiting around June to September, it is well-advised to book a vehicle in advance.
By Boat: Exploring the southern and western beaches may require you to hop on a ferry or a water taxi. This way, you can easily skirt from beach to beach. Here's a more comprehensive guide to ferry itineraries in Mykonos.
Whether you're traveling alone, with a travel buddy, or with your friends and family, it's important to be hyper aware of your environment when you're in a foreign place. Act with decency and respect to the locals and their culture, be open-minded to the possibilities, and when in Mykonos, party to your heart's content.
Hope you have a great time!